CURRENT ISSUE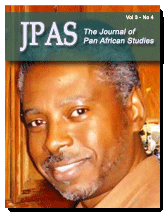 Volume 3 • Number 4 • 2009

On the Cover: Itibari M. Zulu (imzsr@yahoo.com), Senior Editor, The Journal of Pan African Studies.


●Soul Session 101: Africological Engagement
Editorial
[ view PDF ]


●Letter to the Editor
[ view PDF ]


● African Child Rearing in the Diaspora: A Mother's Perspective
by Vivian Yenika-Agbaw
[ view PDF ]
A discussion of the challenges many African immigrants face as they raise their children in the United States, and how their life is complicated by issues related to racial and ethnic identities.


● Remembering Rasta Pioneers: An Interview with Barry Chevannes
by Jérémie Kroubo Dagnini
[ view PDF ]
An interview of Barry Chevannes, author of Rastafari: Roots and Ideology; Rastafari and Other African-Caribbean Worldviews and professor of Social Anthropology at the University of the West Indies.


● Charles White: An Artist for Humanity's Sake
by Paul Von Blum
[ view PDF ]
An introduction to the work of Charles White (1918-1979), one of the finest American artists of the mid 20th century and a giant figure in African American art history.


● Highlife Jazz: A Stylistic Analysis of the Music of Felá Anikulapo Kuti
by Albert O. Oikelome
[ view PDF ]
An investigation of the stylistic elements employed in by multi-instrumentalist musician, composer, and Afrobeat pioneer Felá Anikulapo Kuti (1938-1997) during the highlife jazz era.


● Reflections on the Pan Africanist Congress 'Underground' in the Era of the 1976 Youth Uprisings
by Ali Khangela Hlongwane
[ view PDF ]
This article takes a look at the Pan Africanist Congress 'underground' in the era of the 1976 youth uprisings in an attempt to revive the organization's underground machinery within South Africa and at how it developed its political theory in the context of exile.


● Solomon Mutsvairo as A Historical Artist: The Interface of History and Fiction
by Nesbeth Grand
[ view PDF ]
An analysis of Solomon Mutsvairo's novels Mapondera: Soldier of Zimbabwe (1978), Mweya wa Nehanda (1988) and Chaminuka: Prophet of Zimbabwe (1983) as recreations of the history of Zimbabwe in fictional terms, and an examination of how they work in relation to events that preceded the second Chimurenga (the guerrilla war against the British settlers' minority regime of Rhodesia 1966-1980) in Zimbabwe.


● The African Union: Pan-Africanist Aspirations and the Challenge of African Unity
by Stephen Okhonmina
[ view PDF ]
A discussion on the African Union that examines the conviction that it will be able to meet the challenges of a rapidly changing world; make Africa contemporarily relevant and meet its need to create a united Africa that can resist Western influence.


● The Shona Conception of Euthanasia: A Quest to Depart from Zimbabwe Tradition
by Munyaradzi Mawere
[ view PDF ]
Critical reflections on the position of euthanasia maintained by the Shona through tsumo (proverbs), zvirahwe (riddles), madimikira (idioms) and ngano (folklore) traditionally used to inculcate traditional values, customary laws and the general rules of Shona society..