ARCHIVED ISSUE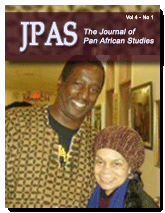 Volume 4 • Number 1 • 2010
On the Cover: Larry Ukali Johnson-Redd and Sonia Sanchez (http://soniasanchez.net)

● Introduction

Larry Ukali Johnson-Redd
[ view PDF ]



● 'How I Long', 'Come Black Man', and 'Remember Me'
by Claudia Epperson
[ view PDF ]
Ms. Claudia Epperson is a servant leader, who grew up in a rural community in California's Central Valley. Using her exemplary leadership skills she has worked in the educational field for more than thirty-five years. Thus, she is a catalyst for change and sees developing new leaders as one of her most important roles. Working with youth and adults, she has been recognized by many civic and community groups. She is currently employed by the Sacramento City Unified School District in Sacramento, California.


● 'Mother Sonia', 'Unconditional', 'Color Blind Deaf and Dumb'
by Lorretta Duncan Fowler
[ view PDF ]
Loretta Duncan-Fowler (www.lorettalarueduncanfowler.com) is an author, poet, singer, songwriter, and performance poet. Her debut book My Deepest Affections are Yours - Love Poems received wide recognition. She is also a member of the performing groups Born 2 Be Poets, 2nd Born, and Uptown Poets. Born 2 Be Poets was nominated for the 2001 SOS Music Award in the spoken word category. Her special brand of poetry is often requested at numerous spoken word, juke joints, club houses, churches and state fairs across the country and internationally. Her most recent book is In Search Of A Father's Love (2010).


● 'Juneteenth 2009', 'Calling', 'Africa Bound', ' Oh Africa', 'Long Distance Love Calling and Calling', 'Obamaland', 'The United States of Africa', 'Ukali Interviews Charles Chatmon of LABBX'.
Larry Ukali Johnson-Redd
[ view PDF ]
Larry Ukali Johnson-Redd (http://www.nathanielturner.com/larryuklaijohnsonreddtable.htm) is the guest editor of this special issue of The Journal of Pan African Studies. His books include: The Black Expatriate in Africa (1982), an autobiographical novel Journey to the Motherland: From San Francisco to Benin City (2002), History To Destiny Through Afrocentric Poetry (2004), and Loving Black Women: Essays and Spoken Word (2006). His most recent work includes Long Distance Love and American Challenges in the Obama Era.


●'Ain't Nothing Changed', 'For Stan Tookie Williams', 'Sisyphus Walks Downhill', and 'Postcard from Hell'
by Rudolph Lewis
[ view PDF ]
Rudolph Lewis is co-founder (with Kinya Kionygozi) of ChickenBones: A Journal (www.nathanielturner.com), which has become one of the most popular African-American sites on the internet, receiving over a half-million visitors in 2003 and is expected to reach over two million this year. His poems have been published in Black Magnolias: A Literary Journal (2009), the anthology Let Loose on the World: Celebrating Amiri Baraka at 75 (2009).


● 'Tyra' and 'Momma'
by Terry Moore
[ view PDF ]
Terry (http://www.terrymoore.info/index.html) is the author of fifteen poetry books and eight spoken word CDs, twelve-time Slam Champion, founder of the Black Men Expressing Tour, founder of "The Show" poetry series, Culture Collection and Underground poetry series, founder of the Daddy's Here men's support group, founder and member of spoken word group Born 2B Poets, founder of the 8 Hours of Blessings Praise Conference, and a member of the 2003 & 2004 Sacramento (California) National Slam Team.


● 'Freedom Torch', 'African Family Reunion', 'Inventions'
by Linda Mayfield-Hayes
[ view PDF ]
Linda Mayfield-Hayes is a Brooklyn born poet, known to the on-line poetry community as Slendah, she believes Blacks should be proud of their heritage and others should try to understand it. In her book, "Afroetry", she uses poetry as a means of teaching Black people about their history, heritage and culture.


● 'A Message from the Haitians Who Lost Their Lives', 'The Cystem (It Ain't Broke, It's Doing What It's Supposed to Do!)', 'The Middle Passage of Black Male/Female Relation Ships'
by Paradise
[ view PDF ]
Paradise was born in Oakland, California, graduated from Berkeley High School, majored in English/and Creative Writing at Xavier University in New Orleans, and has played professional Basketball in Argentina for Club Almirante Brown.


● 'Next Time' and 'Written for the Late Oscar Grant'
by Jeanne Powell
[ view PDF ]
Jeanne Powell is a poet and short story writer, who teaches in a summer program for teens. Her most recent books are "My Own Silence" and "Word Dancing," available online and through booksellers. She also hosts spoken word events in San Francisco, and covers cultural happenings for online media.


● 'My Brother's Keeper'
by Marvin West
[ view PDF ]


● 'Some Poetry, Some Damage' and 'Soul Jazz: Definition 101'
by Itibari M. Zulu
[ view PDF ]
Itibari M. Zulu is the senior editor of The Journal of Pan African Studies. His poetry has appeared in Essence magazine and The Griot (the journal of the Southern Conference on African American Studies).


● Announcements
[ view PDF ]
The Depths of My Soul and Voices of South Central by Charles Chatmon, Jr.; American Challenges in the Obama Era, Part 1 (Kindle Edition, 2010) by Larry Ukali_Johnson-Redd, reviewed by Alice Holman; The Slave Trade and Culture in the Bight of Biafra: An African Society in the Atlantic World by Dr. G. Ugo Nwokeji, and Warrior King by Claudia Epperson.