ARCHIVE ISSUE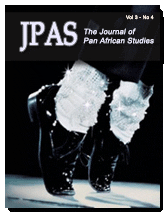 Volume 3 • Number 7 • 2010
● MJ: The Man in the Mirror Analyzed
by Itibari M. Zulu
[ view PDF ]


● Love: The Human Family's Most Precious Legacy
by Michael J. Jackson
[ view PDF ]
Michael Jackson's first public lecture presented in March 2001 at Oxford University (Oxford, U.K.) whereupon he says "Human knowledge consists not only of libraries of parchment and ink - it is also comprised of the volumes of knowledge that are written on the human heart, chiseled on the human soul, and engraved on the human psyche", and other insightful statements relevant to his concern for the planet and all living things.


● "Wanna Be Startin' Somethin': MJ in the Scholarly Literature: A Selected Bibliographic Guide"
by Susan Hidalgo and Robert G. Weiner
[ view PDF ]
A non-sensational bibliographic guide to scholarly literature on the breadth of Michael Jackson's life, work and influence.


● Metaphor of Hybridity: The Body of Michael Jackson
by Julian Vigo
[ view PDF ]
Here, the author suggests that in reading Michael Jackson's body goes far beyond dance to approach the realm of somatic change which blurs the lines between male and female, between black and white and between human and animal. Hence, Michael Jackson was sexless as he interpreted the roles of both man and women wherein his sexuality was represented as either non-existent or hyper-active.


● Michael Jackson Motivated
by Firpo W. Carr
[ view PDF ]
An acknowledgement that Michael Jackson was tapped in an endless stream of apolitical consciousness with love as the main stream, and that he was also a proud Black man with an appreciation for African culture that was woven into the fabric of his soul.


● The Semiosis of Soul: Michael Jackson's Use of Popular Music Conventions
by Konrad Sidney Bayer
[ view PDF ]
An examination of the popular music conventions that Michael Jackson drew from to appeal to diverse groups to express a variety of musical tastes.


● Michael Jackson & Television Before Thriller
by Matthew Delmont
[ view PDF ]
A look at the first phase of Michael Jackson's television career via the Jackson Five's television debut in 1969 at the Miss Black America pageant, and their first nationally broadcast performances on Hollywood Palace and The Ed Sullivan Show.


● "I'm a Cartoon!" The Jackson 5ive Cartoon as Comodified Civil Rights & Black Power Ideologies, 1971-1973
by Richard M. Breaux
[ view PDF ]
An assessment of Motown Productions and Rankin/Bass Productions Incorporated collaboration to bring the Jackson 5ive cartoon to the American Broadcasting Company's Saturday morning line-up, and the place of the Jackson 5ive cartoon in the history of Black characters in animated television and film.


● Michael Jackson & The Psycho/Biology of Race
by Darryl Scriven
[ view PDF ]
Affirming that race in America functions largely as a fictive political narrative with psychological and sociological implications, this work argues that this phenomena surfaced in Michael Jackson's pathology of appearance and in America's bipolar obsession with his racially ambiguous expression.


● Michael Jackson: Color Complex and the Politics of White Supremacy
by Professor Gershom Williams
[ view PDF ]
This paper suggests that Michael Jackson's compassionate and loving spirit fell victim to the ever present and dangerous, subliminal forces of White racial superiority, although he had an abundance of positive role models and pro-Black examples of success and greatness.