ARCHIVE ISSUE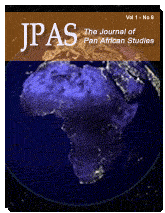 Volume 1 • Number 9 • 2007
● Editorial: Literature, Politics and Music
[ view PDF ]


● The United Nations and Development: An African Priority
by Kofi A. Annan.
[ view PDF ]
A farewell address by the seventh Secretary-General of the United Nations held in Addis Ababa, Ethiopia wherein he states that development is never a gift bestowed on any country from outside, and that he will devote himself to the welfare of Africa.


● Abdul Rahman Mohamed Babu: Politician, Scholar and Revolutionary
by Amrit Wilson.
[ view PDF ]
A biographical profile of the political life and ideas of Abdul Rahman Mohamed Babu (1924-1996), one of Africa's foremost thinkers and activist, based on extracts from his writings.


● Yabis: A Phenomenon in the Contemporary Nigerian Music
by Michael Olatunji.
[ view PDF ]
An examination of the role and impact of Yabis music in contemporary Nigeria.


● "A Ghetto Education is Basic": (Jamaican) Dancehall Masculinities as Counter-Culture
by Agostinho M.N. Pinnock.
[ view PDF ]
A conceptual-theoretical overview of how male Dancehall artiste locate race and class struggle in Jamaican society through the female body via shifting social constructs that re-inscribe an alternative vision of society.


● Precepts for Tenure Ethics in Yoruba Egungun (Masquerade) Proverbs
by Moses Oke.
[ view PDF ]
This work advocates for a deeper intellectual interest in African cultural festivals and activities to comprehend and propagate embedded philosophical ideas and cultural principles.


● Making a Case for Reparations
by Henry A. Ekiyor..
[ view PDF ]
Highlighting some of the irreparable damages of trans-Atlantic enslavement and its consequences, this work provides an analysis of select contentions by some opponents of reparations.


● Africa and the New World Order: Voices and Ways of Liberation in Armah's Osiris Rising
by Eric Edi.
[ view PDF ]
This contribution examines the new Pan African and revolutionary vision of Ghanaian author, Ayi Kwei Armah as it appears in Osiris Rising, a novel he published in 1995 which offers an African examination of Africa; proclaims the assertion of Africa, and promotes the idea of African emancipation.


● Recurrent Themes in the Poetry of Yorùbá Female Writers
by Láídé Janet O. Sheba.
[ view PDF ]
Through the exploration of themes in Yorùbá poems written by women, this paper examines and discusses the socio-political context of poetry in Yorùbá society, and Nigeria at large.


● Dismantling the History of Slavery and Colonization in the Poetry of Mohamed Al-Fayturi and Langston Hughes
by Saddik Mohamed Gohar.
[ view PDF ]
A review of how Langston Hughes and Mohamed Al-Fayturi poetically engaged the history of racism and colonization, and thus link it to African literary tradition via its counterpart in the United States.


● Edward Brathwaite's The Arrivants and the Trope of Cultural Searching
by Ayo Kehinde.
[ view PDF ]
This paper examines the issue of identity in the poetry of Edward Kamau Brathwaite, and argues that his poems successfully attempts reconciliation with African culture with Africa as a motif, and an enduring trope.


● Beyond the Odds of the Red Hibiscus: A Critical Reading of Chimamanda Adichie's Purple Hibiscus
by Anthony C. Oha.
[ view PDF ]
This paper examines how Chimamanda Adichie has unraveled the problems of politics, freedom, gender and development within the threshold of governance in Africa.


● Global Peace Leadership Summit: Preliminary Abstracts
[ view PDF ]
A select list of preliminary abstracts for the Global Peace Leadership Summit to be held October 3-7, 2007 in Los Angeles, California.


● Multi-Media Received
[ view PDF ]
Books and films sent or given to JPAS for critique and review.


● Ghana at Fifty Symposium: British Columbia, Canada
[ view PDF ]
An internal special issue edited by Dr. Charles Quist-Adade (Kwantlen University College) focused on a symposium organized by the Ghana Canada Association of British Colombia and Kwantlen University College in Surrey, British Columbia, Canada under the theme Ghana and Canada-50 Years of Friendship featuring presentations by academics, government officials, and concerned citizens.