ARCHIVE ISSUE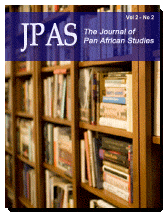 Volume 2 • Number 03 • 2008
● Editorial: Extending the African Agenda
[ view PDF ]


● Ancestral Roll Call: A dedication via Adinkra symbolism to the life and legacy of Mazisi Raymond Fakazi Mngoni Kunene (1930-2006), Asa G. Hillard, III (1933-2007) and Vè Vè Amasasa Clark (1944-2007).
[ view PDF ]


● Empowering African Languages: Rethinking the Strategies
by Adeyemi Adegoju.
[ view PDF ]
This work contends that in the wake of the hegemonic influence of foreign languages like English and French, African languages are being marginalized in terms of acquisition, learning and use; hence this study focus on three major domains where there is gross disuse of the indigenous language, Yoruba, in favor of English.


● Ngano: Teaching Environmental Education Using the Shona Folktale
by Davie E. Mutasa, Shumirai Nyota, and Jacob Mapara.
[ view PDF ]
This paper examines the implications of using the Shona folktale as a tool and method for teaching environmental education and asserts that the folktale is a very effective for teaching environmental education.


● The Writer and the Quest for Democratic Governance in Nigeria: Transcending Post-Independence Disillusionment
by Adekunle Olowonmi.
[ view PDF ]
This presentation locates and establishes the possibilities of unerring democratic ideals and good governance as the locus of postcolonial texts through pseudo-textual analysis, and thus seeks to contextualize post-independence pains and frustrations.


● "I write what I like": African Prison Intellectuals and the Struggle for Freedom
by Mechthild Nagel.
[ view PDF ]
An expose on prisoners' narratives in Mali, South Africa and Kenya which recount their experiences, the purpose of prisons, and their visions for Africa.


● The Challenges of Indigenizing Africa's Environmental Conservation Goals
by Patrick M. Dikirr.
[ view PDF ]
An analysis of ordinary language philosophy and how it authenticates African philosophy as a unique 'species' of philosophy, thus, placing an end to the controversy concerning the ontology of African Philosophy.


● African Philosophy and the Method of Ordinary Language Philosophy
by Gbenga Fasiku.
[ view PDF ]
This paper takes a critical look at proposals gaining currency in Africa that suggest that for the continent to cultivate an environmentally supportive culture, respective African governments must thoughtfully reconcile imported environmental conservation interventions with the collective intelligence of Africa's village lore.


● The Idea of an 'Educated Person' in Contemporary African Thought
by Oladele Abiodun Balogun.
[ view PDF ]
A philosophical appraisal of the idea of an educated person in contemporary African thought which attempts to show that some are unaware of who is truly, an educated person.


● The Legacy of Kwame Nkrumah in Retrospect
by Ama Biney.
[ view PDF ]
A re-evaluation of Nkrumah's legacy juxtaposing the controversies surrounding him as a political figure and his vision for achieving a continental unity in Africa through social, economic, and political Pan-African engagement.


● Ghana's Foreign Policy at Independence and Implications for the 1966 Coup D'état
by Boni Yao Gebe.
[ view PDF ]
This study examines the legacy of Kwame Nkrumah; reasons for his removal from office, the repercussions for the Ghana, and concludes that his departure was an irreplaceable loss to the Pan African agenda.


● Globalization as Meta-Axiological Dilemma: The Sociological Implications of Rational Choice Criteria for Local Cultural Deep Structure
by Sundjata ibn-Hyman.
[ view PDF ]
This work considers the global displacement of local axiology as a divestiture of cultural deep structure undergirding individual economic agency in African society.


● Marcus Garvey: A Controversial Figure in the History of Pan-Africanism
by Jérémie Kroubo Dagnini.
[ view PDF ]
An examination of Marcus Garvey's life and ideologies which suggest that he tended to place Western culture/civilization on a pedestal, and thus participated in elements of intellectual colonization.


● Pan African Metaphysical Epistemology: A Pentagonal Introduction
by Denise Martin.
[ view PDF ]
This work suggest that a Pan African metaphysical epistemology collects concepts, practices, and patterns from various past and present African cultures continental and within the African Diaspora to formulate itself as a resource for discussing 21st century perceptions of the person, time, phenomena, and healing.


● Miscegenation and Racism: Afro-Mexicans in Colonial New Spain
by Ellen Yvonne Simms.
[ view PDF ]
An examination of two salient factors that caused the decline of the Afro-Mexican population in Mexico from the sixteenth to the eighteenth centuries; the prevalence of a miscegenation ethos, and pernicious racism.


● Zimbabwe Hill Settlements in Proceeding Colonization: A Study in Location Factors
by Tavuyanago Baxter and Mbenene Kudakwashe.
[ view PDF ]
This study refutes the argument posed by colonizers and imperialists that settlements on hills by the Shona of pre-colonial Zimbabwe were determined by a need for defense, and thus argues that instead, environmental, health and agrarian factors were more important determinants to most settlements, than defense or incessant wars.


● Announcements:

- Black Male Development Symposium 2008
- Digital Diasporas: Digital Humanities and AfricanAmerican/African Diaspora Studies
- In Memoriam: William A. Little (1941-2008)
[ view PDF ]