ARCHIVED ISSUE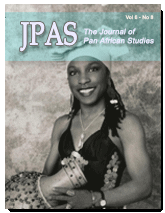 Volume 6 • Number 9 • 2014
On the cover: Olabamidele (Dele) Hart-Husbands (circa 2004), CEO of the Forces of Nature Dance Theatre Company (www.forcesofnature.org) and chief operating officer and program director of Say Yes to Life Educational Services in Los Angeles, California. She holds degrees from Hampton University, Bowling Green State University, and the University of Calabar in Calabar, Nigeria.


● Meeting the Minds: Convening Consciousness and Culture at Eso Won Books
(guest report) by Lynell George
[ view PDF ]
● Social Justice, Engendering Development: The Myth of Commonality in Kenyan Policies
by Helen Yamo and Ogutu Miruka
[ view PDF ]
● In the Cartoonist's Mind: Exploring Political Comic Strips in Kenyan Daily Newspapers
by Oliver Mulanda and Vicky Khasandi-Telewa
[ view PDF ]
● Thirteen Cents by K. Sello Duiker: Exposing Street Child Reality in South Africa
by Mamadou Abdou Babou Ngom
[ view PDF ]
● Revolutions, Evolutions and African Political Economies: A Critical Review of Nigel Gibson's Living Fanon: Global Perspectives
by Artwell Nhemachena and Munyaradzi Mawere
[ view PDF ]
● Rapping with the Gods: Hip Hop as a Force of Divine Continuity, From the Continent to the Cosmos
by Teresa N. Washington
[ view PDF ]
●Reimagining the 'Blockbuster' for Nigerian Cinema: The Nollywood Narrative Aesthetic of Affective Spectacle
by Tori Arthur
[ view PDF ]
● Charting the Growth of Gyno-Texts in Nigerian Prose Fiction
by Balogun Olayinka Mary
[ view PDF ]
● Black College Activism and Disciplinary Suspensions/Expulsions, 1960-1962: An Interview with Rosemari Mealy
by Itibari M. Zulu
[ view PDF ]
● Shirley Sherrod: Wronged Role Model Discusses Restoring Her Reputation, The "Martin Luther King Awards Dinner" Interview
by Kam Williams
[ view PDF ]
● Media, Ethnicity and the Challenge of Peace: Exploring the Crisis of State-Building in Nigeria
by Agaptus Nwozor
[ view PDF ]
● Nationalism, Ethnicity and Gender in Ngugi's The Black Hermit
by Amitayu Chakraborty
[ view PDF ]
● Strategic National Black Consensus: An Interview with Larry Ukali Johnson-Redd
by Itibari M. Zulu
[ view PDF ]
● Framing the Urban Hustler: Space and Identity Discourse in Kenyan Popular Music
by James C. Odhiambo Ogone
[ view PDF ]
Book Reviews
● America's First Black Socialist: The Radical Life of Peter H. Clark
[ view PDF ]
● Educating African American Males: Context for Considerations, Possibilities for Practices
[ view PDF ]
● Books of Interest
[ view PDF ]
Africa in Stereo: Modernism, Music, and Pan-African Solidarity, Home and Exile: Abdias Nascimento, African Brazilian Thinker and Pan-African Visionary, Caribbean Reasonings: George Padmore, Pan-African Revolutionary, Black Power in the Caribbean, Death of the Willie Lynch Speech: Exposing the Myth, Manipulating the Sacred Yorůbá Art, Ritual, and Resistance in Brazilian Candomblé, The New Jim Crow: Mass Incarceration in the Age of Colorblindness, Let Spirit Speak!: Cultural Journeys through the African Diaspora, Listening to Ourselves: A Multilingual Anthology of African Philosophy, Habitations of the Veil: Metaphor and the Poetics of Black Being in African American Literature, Stokely: A Life, Transformation of the African American Intelligentsia, 1880-2012, This Ain't Chicago: Race, Class and Regional Identity in the Post-Soul South, Body and Soul: The Black Panther Party and the Fight against Medical Discrimination, Chris Braithwaite: Mariner, Renegade and Castaway-Seamen's Organizer, Socialist and Militant Pan-Africanist, Breeding A Nation: Reproductive Slavery and the Pursuit of Freedom, God and Blackness: Race, Gender, and Identity in a Middle Class Afrocentric Church, Cinema and Development in West Africa, Manifestations of Masculine Magnificence: Divinity in Africana Life, Lyrics, and Literature, African Diasporic Women's Narratives: Politics of Resistance, Survival, and Citizenship, Yoruba Art and Language: Seeking the African in African Art, Contemporary African Literature in English.

Announcements
● White House Initiative on Educational Excellence for African Americans
2014 Summits on Educational Excellence for African Americans
[ view PDF ]
● International Human Rights Association of American Minorities
[ view PDF ]