ARCHIVE ISSUE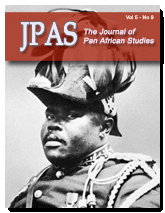 Volume 5 • Number 9 • 2013
This issue of JPAS is dedicated to the memory of Dr. Fidelis Nwaokedi Amatokwu (1947-2012), and Dr. Tony Martin (1942-2013), and the life of Abba Alhadi of Mali who has dedicated 40 of his 72 years taking care of rare 13th century manuscripts at the Ahmed Baba Institute of Higher Learning & Islamic Research in Tombouctou, Mali. In January 2013, he protected 28,000 of the 30,000 manuscripts from invaders who succeeded in burning parts of the library and research center.



● Colonial Terrorism, Global Capitalism and African Underdevelopment: 500 Years of Crimes Against African Peoples
by Asafa Jalata
[ view PDF ]
This article critically explores European colonial terrorism and its main consequences on various African peoples during racial slavery, colonization, and its incorporation into the European-dominated capitalist world system between the late 15th and 20th centuries. Thus, it employs multidimensional, comparative methods, and critical approaches to explain the dynamic interplay among social structures, human agency, and terrorism to critically explain the links between terrorism, the emergence of globalization, and African underdevelopment.
● Caribbean Migrants in Panama and Cuba, 1851-1927: The Struggles, Opposition and Resistance of Jamaicans of African Ancestry
by Kofi Boukman Barima
[ view PDF ]
In this paper the author revisits the immediate years after emancipation in the early twentieth century to discuss the Afro-Caribbean peoples of Jamaica and the racial and political climate that propelled them to migrate to Panama and Cuba which provoked militant consciousness that gave rise to the leadership Marcus Garvey, and the organization of the Universal Negro Improvement Association.
● Dominican Funnies, Not So Funny: The Representation of Haitians in Dominican Newspaper Comic Strips, After the 2010 Earthquake
by Daly Guilamo
[ view PDF ]
This report demonstrates how a Dominican newspaper in their Ďfunniesí section work to demean Haitians in the aftermath of the 2010 earthquake.
● 'Are Real Women Just Bad Porn?': Women in Nigerian Hip Hop Culture
by Albert O. Oikelome
[ view PDF ]
Hip hop music in Nigeria has emerged as a means of expression among the youth on a wide range of issues, thus a worrisome trend is the fragrant display of women as sex symbols, the degree of violence against women, and the misogynistic ideologies being expressed in the lyrics. This paper therefore examines the use of women as mere tools and objects claimed and cascaded around by hip hop artistes in Nigeria as a means of enhancing celebrity status and commercial viability.
● Sex and Sexuality in the Works of Chimamanda Ngozi Adichie
by Ehijele Femi Eromosele
[ view PDF ]
This paper examines sexual activity in the works of Chimamanda Ngozi Adichie, beginning from Purple Hibiscus through Half of a Yellow Sun and The Thing Around Your Neck, noting how they reflect the authorís attitude about sex and sexuality.
● Effects of Black Sexual Stereotypes on Sexual Decision Making Among African American Women
by Sarita Davis and Aisha Tucker-Brown
[ view PDF ]
This study explores the influence of the sexual stereotype on the sexual decision-making of young African American women. Individual interviews and focus groups were conducted with 25 young African American women. Findings suggest that African American women see a connection between Black female sexual stereotypes and their sexual decision-making and connect it to increased risky sexual behavior. Respondents viewed hip-hop music videos as the primary conduit of this exploitation, and implications for culturally responsive content in HIV prevention education are discussed.
● Youth Participation in the Local and National Development of Ghana: 1620-2013
by Ransford Edward Van Gyampo and Franklin Obeng-Odoom
[ view PDF ]
This paper demonstrates how participation in development planning can change the role of underlying institutions, and thus create implications for evolutionary participatory development in policy making focused on the role of youth in development planning in Ghana.
● The Radical Evolution of Du Boisian Pan-Africanism
by Anthony J. Ratcliff
[ view PDF ]
This article examines the evolution of Du Boisian Pan-Africanism, focusing specifically on the role that the fifth Pan-African Congress in 1945 and the subsequent independence of Ghana played in radicalizing his political and intellectual position on African unity.
● New Electronic Journals and Early Pan-Africanist Dreams: An Annotated Bibliography of Selected Resources in Pan African Studies
by Marsha R. Robinson
[ view PDF ]
In this qualitative review essay, the author celebrates electronic journals as one more Pan-Africanist rung in the ladder toward Rev. Alexander Crummelís lofty vision of human civilization. Thus the paper demonstrates the continuity between modern technology and contemporary research in global scholarly communities and three Pan African intellectual ancestors from the nineteenth century.
● Invisible Jim Crow: An Interview with Michael Tillotson
by Karanja Keita Carroll
[ view PDF ]
A discussion of Michael Tillotsonís book (Invisible Jim Crow: Contemporary Ideological Threats to the Internal Security of African Americans) that examines the contemporary zeitgeist of the Black American in the United States from 1980-2007 in a response to contemporary anti-egalitarian ideological conditions that needed illumination from an African-centered location with a concern for cultivating collective agency, recovery, and transformation in the Black world. Other topics in the interview include a diagnostic tool of analysis to test a system of thought, movement or anything in human existence that affects African descended people negatively, and Tillostsonís introduction of ĎAgency Studiesí which is essentially an area of study committed to the intentional development of ideas that create epistemic fluency surrounding collective agency that contribute singularly and unapologetically to the well-being and internal security of African Americans.
● Book Review
[ view PDF ]
A review of Transformative Political Leadership: Making a Difference in the World by Robert T. Rotberg by Uzoechi Nwagbara of the Greenwich School of Management, London, UK.
● Books Available for Review
[ view PDF ]
Black Ranching Frontiers: African Cattle Herders of the Atlantic World, 1500-1900; Educating African American Males: Contexts for Consideration, Possibilities for Practice; The Performative Sustainability of Race: Reflections on Black Culture and the Politics of Identity; Integrating Multiculturalism in the Curriculum: From the liberal Arts to the Sciences; War in Worcester: Youth and the Apartheid State; Afrocentric Teacher-Research: Rethinking Appropriateness and Inclusion; By Our Own Strength: William Sherrill, the UNIA, and the Fight for African American Self-Determination in Detroit; Hip Hop Africa: New African Music in a Globalizing World; Black Males in the Green Mountains: Colorblindness and Cultural Competence in Vermont Public Schools; Reconstructing Rage: Transformative Reentry in the Era of Mass Incarceration; Hip Hop Li'l Sistas Speak: Negotiating Hip Hop Identities and Politics in the New South; The Black Revolution on Campus.
COMMENTARY
● "Never Give Up:" The Development of African American Men with Fortitude, Commitment, and Responsibility
by K. Tutashinda
[ view PDF ]
This commentary-exercise focuses on the creation of an African American man that is developed internally to withstand the multitude of pressures, situations, and unforeseen circumstances that may arise within his life. Thus, the presentation identifies and outlines specific principles, environments and learning situations that inculcates and develops those principles that can establish a progressive and holistic foundation for African American so they can have a never give up attitude and reality.
● Remembering the Quotable Steve Bantu Biko: Introspection and Theoretical Epistemological Analysis of Apartheid Murder
by Nana Adu-Pipim Boaduo FRC
[ view PDF ]
This commentary is an attempt to reveal the theoretical epistemology behind Steve Bantu Bikoís untimely murder and how his ideas posed a visible threat to the survival of apartheid South Africa.