ARCHIVE ISSUE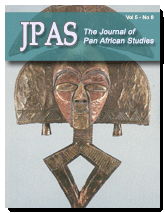 Volume 5 • Number 8 • 2012
On the Cover: Gabon Art



● Randy Weston, D.M.
[ view PDF ]
A tribute to African centered pianist, composer and lecturer Randy Weston.
● Jazz Legend Randy Weston on His Life and Celebration of "African Rhythms"
by Amy Goodman
[ view PDF ]
An interview with Randy Weston on February 20, 2012 at the Borough of Manhattan Community College Performing Arts Center in Manhattan, New York.
● Perspectives on Coastal Ghana's Musical and Social Patterns: "One" Is Not Where We Think It Is But It Is Always Where It Should Be
by Barry Bilderback and Kevin Woelfel
[ view PDF ]
This paper argues that an emphasized down beat commonly referred to in Western music as "one" has a perplexing representation in Ghanaian music.
● African American Visual Representation: From Repression to Resistance
by Paul Von Blum
[ view PDF ]
● Interfacial Archetypes in Afro-Brazilian Cultural Studies: The Pan-African Consciousness of Márcio Barbosa, Paulo Colina, and Salgado Maranhão
by Niyi Afolabi
[ view PDF ]
This article explores the works of writers Paulo Colina, Salgado Maranhão, and Márcio Barbosa to suggest a comparative commonality within the trope of "interfacial archetypes" as they choose the urban setting for their imaginative works even when their subject matter transcends a fixed setting.
● Amendments to Christopher Columbus Quincentenary Jubilee Act
by Ivan Van Sertima
[ view PDF ]
A testimony by Ivan Van Sertima (1935-2009) held in 1987 before the U.S. Congress to discuss the Christopher Columbus Quincentenary Jubilee Act presented in memory of Mervyn M. Dymally (1926-2012), a former California assembly member, senator, lieutenant governor, and member of the U.S. Congress; and in honor of the 25 anniversary of The Journal of Pan African Studies (1987-2013). Hence, Van Sertima in-part argues that: the voyages of Columbus were not voyages of discovery; Columbus did not know he discovered the New World; Native Americans told Columbus that Black people had come in large boats from the south and southeast trading in gold-tipped metal spears; every major figure of the Columbus contact period sighted Black people among the Native Americans; Columbus never once set foot on the American land mass north or south; 14 colossal African-type stone heads have been found in Mexico (one has a seven-braid Ethiopian hairstyle); the Piri Reis map found in the sacked library in Râ-Kedet (Alexandria) in ancient Egypt show the correct longitudinal and latitudinal coordinates between the African coastline and the American coastline, and that there are reports of African people taking elephants to China two centuries before Columbus.
● Trends of Epistemic Oppression and Academic Dependency in Africa's Development: The Need for a New Intellectual Path
by Nathan Andrews and Eyene Okpanachi
[ view PDF ]
This paper highlights trends of epistemic oppression and academic dependency in Africa and thus argues that African people should think creatively from within and produce knowledge that is more in tune with an African context rather than depending on books, theories, and approaches from elsewhere. Hence, it concludes that until Africa gains the substantial ability to think, act and speak for itself through progressive scholarship and writing, 'true' intellectual freedom and home-grown development will be unlikely.
● Acceptance Speech of Newly Elected African Union Commission Chairpersonship
by Dr. Nkosazana Dlamini Zuma
[ view PDF ]
An acceptance speech of the newly elected African Union Commission chair wherein she quotes Marcus Garvey, and states that: her election is not a personal victory rather a victory for Africa and for women in particular; the future of Africa is inextricably linked to the rest of humanity, the world over; Africa must take its rightful place among the nations of the world as an equal reliable partner and therefore a full member of the international community; and that she is grateful African leaders understand that women have to participate and take their rightful place in society, so they can reach their full potential, alongside men.
● Corruption in the Underdevelopment of the Niger Delta in Nigeria
by Daniel Egiegba Agbiboa and Benjamin Maiangwa
[ view PDF ]
This presentation suggest that Nigeria should intensify its on-going efforts to diversify the national economy which in the long run can shrink the country's reliance on crude oil, making it less sensitive to national income and development; and secondly that corruption in Nigeria can be remedied by incorporating insights from the theory of public choice via new corruption clean-up programs.
● Rap Sheet: H. Rap Brown, Civil Rights Revolutionary- Cop Killer/FBI Target?
by Obaid H. Siddiqui
[ view PDF ]
An update on the case of Imam Jamil Abdullah Al-Amin (aka H. Rap Brown), a political activist of the 1960s now under perpetual solitary confinement in a maximum federal prison serving a life sentence for a crime many people believe he did not commit that another person has confessed to doing.
● The Black Campus Movement: An Interview with Ibram H. Rogers
by Karanja Keita Carroll
[ view PDF ]
An interview of assistant professor of Africana Studies Ibram H. Rogers regarding contempory issues and his award-winning national study of Black student activism entitled The Black Campus Movement: Black Students and the Racial Reconstitution of Higher Education, 1965-1972.
● The Absence of Kinyarwanda in the Current Language Policy of Rwanda
by Straton Rurangirwa
[ view PDF ]
Kinyarwanda is spoken by most Rwandans, the sole national and the official language of Rwanda, however it is increasingly absent from debates on the language problem in Rwanda. Furthermore, the current debate and decisions regarding the use of languages in Rwanda focus on the conflict between English and French. In this article, the importance of Kinyarwanda is discussed, hence its developmental potential and symbolic value in an effort to question and understand the researchers and decision makers' indifference towards the mother language of Rwanda.
● Ukwitabwaho guke kw'ikinyarwanda muri politiki nshya y'indimi mu Rwanda
by Straton Rurangirwa
[ view PDF ] Language: Kinyarwanda
Ikinyarwanda kivugwa n'abanyarwanda bagera kuri 99,4% (Ibarura ryo muri 2002). Ni ururimi rw'igihugu ndetse rukoreshwa no mu nzego za leta mu Rwanda. Biratangaje rero ko ikinyarwanda kigenda kirushaho kubura umwanya mu biganirompaka bivuga ku bibazo by'indimi mu Rwanda. Mu by'ukuri ibiganirompaka n'ibyemezo bifatwa ubu ku byerekeye imikoreshereze y'indimi usanga byibanda cyane cyane ku kibazo kiri hagati y'icyongereza n'igifaransa. Gutinda kuri iki kibazo cy'izi ndimi ebyiri mvaburayi bituma ikibazo cy'ikinyarwanda kibagirana mu mirimo ya politiki y'indimi mu Rwanda. Kuba ikinyarwanda ari ururimi kavukire rw'abanyarwanda bose, biba nk'urwitwazo rwo kwirengagiza impinduka ziri kuba muri uru rurimi ndetse n'uko hagombye gushyirwaho amategeko ahamye agenga imikoreshereze yarwo. Mbese wagira ngo ikibazo cyo gutunganya no guteza imbere ikinyarwanda cyarakemutse burundu. Kandi nyamara iki kibazo cyerekeye ikinyarwanda si icya none. Muri iyi nyandiko, ndavuga ku kamaro k'ikinyarwanda, uruhare rwacyo mu iterambere, n'agaciro benecyo bagiha. By'umwihariko, ndagerageza kwibaza ku mwete muke ugaragara ku bashakashatsi ndetse n'abafata ibyemezo ku birebana n'iki kibazo, ibi nabyo bikamfasha gusobanura no kurushaho kumvikanisha uburemere n'imbogamizi iki kibazo giteye.
● PanAfricanism, Myth and History in African and Caribbean Drama
by Omotayo Oloruntoba-Oju
[ view PDF ]
This paper observes that both the history and the histrionic representation of Pan-Africanism are unified by the theme of Africa and the goals of validating African history and culture; compares the Pan-Africanist aesthetics of some of the acknowledged masters in African and Caribbean drama in how their dramas relate to historical Pan-Africanism. The paper shows tends in historical representativeness and mythology in the representation of Pan-Africanism to suggest that how the mode of representation of history in drama is itself subject to exigencies of history.
● Discourses and Disciplines: African Literary Criticism, North Africa and the Politics of Exclusion
by Yomi Olusegun-Joseph
[ view PDF ]
This paper interrogates the historic, cultural and creative place of North Africa in African writing, thus identifying its seminal but often unacknowledged contribution to African literature and therefore calling for a critical respect of the plural history and evolution of African writing.
● Dance Claimed Me: Pearl Primus
[ view PDF ]
A review of The Dance Claimed Me: a Biography of Pearl Primus byPeggy & Murray Schwartz by reviewer Daryl L. Harris (Associate Professor of Theatre and Dance, Department of Theatre and Dance, Northern Kentucky University).
● Ota Benga Under My Mother's Roof
[ view PDF ]
A review of Ota Benga Under My Mother's Roof by Carrie Allen McCray with an introduction by Kevin Simmonds reviewed by T. Anantha Vijayah (Assistant Professor, Gandhigram Rural Institute, Deemed University).
● Books of Interest
[ view PDF ]
A View from The East: Black Cultural Nationalism and Education in New York City. Understanding Organizational Leadership Through Ubuntu. Africans in China: A Sociocultural Study and its Implications on Africa-China Relations. Writing the Afro-Hispanic: Essays on Africa and Africans in the Spanish Caribbean. We Will Shoot Back: Armed Resistance in the Mississippi Freedom Movement.