ARCHIVE ISSUE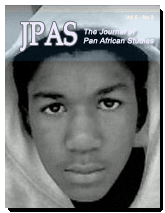 Volume 5 • Number 3 • 2012
On the Cover: Trayvon B. Martin (1995-2012), son of Sybrina Fulton and Tracy Martin was shot and killed in a gated neighborhood in Sanford, Florida on February 26, 2012 by George Zimmerman, a 28-year old neighborhood watch person.



● African Americans, Pan-Africanism, and the Anti-Apartheid Campaign to Expel South Africa From the 1968 Olympics
by Dexter Blackman
[ view PDF ]
This article examines African American participation in the anti-apartheid campaign to expel the South African Olympic Committee from the 1968 Olympics as a lens that influenced Pan-Africanism in the development of Black Power in the U.S.
● Black Community Involvement and Subjective Well-being
by Nyasha Grayman-Simpson
[ view PDF ]
A qualitative study that examines perceptions of personal rewards associated with Black community involvement via a sample of 50 adults of African descent congregated within the Mid-Atlantic region of the United States consisting of written responses to several questions about personal rewards/benefits associated with Black community involvement.
● Not Obligated to be Obliging: A Case Study of Jamaican and South Carolinian Educational Leaders
by Travis D. Boyce and Winsome Chunnu-Brayda
[ view PDF ]
This case study examines the leadership of two controversial figures in education: Benner C. Turner, president of South Carolina State College and Mavis Gilmour, minister of education of Jamaica, both remembered autocratic leaders.
● The Impact of Rastafari Ecological Ethic in Zimbabwe: A Contemporary Discourse
by Fortune Sibanda
[ view PDF ]
An examination of the contribution of Rastafari faith to the preservation and reclamation of the environment which posits that religion has a vital role to play in the mitigation of climate change.
● Getting Ziggy with It: The "Marley" Interview with Kam Williams
by Kam Williams
[ view PDF ]
An interview with five-time Grammy-winning musician, actor, artist, activist and humanitarian David Nesta "Ziggy" Marley, the son of Rita and Bob Marley.
● The Quest to Achieve African Renaissance: Reflections on NEPAD
by Obonye Jonas
[ view PDF ]
This article reflects on the progress of New Partnership for Africa's Development (NEPAD) initiative, ten years after its formation and argues that it is hamstrung by several structural, socio-economic and political constraints that account for its failure in engineering Africa's rebirth.
● Epistemology of Proverbs and Idioms of the Asante Ethnic Group of Ghana for Introspection
by Nana Adu-Pipim Boaduo FRC
[ view PDF ]
A discussion of the epistemology of Asante proverbs and idioms designed for introspective application and usage.
● Toni Scott's "Bloodlines": Remembering Yesterday, Understanding Today, and Empowering Tomorrow
by Paul Von Blum.
[ view PDF ]
An assessment of 'Bloodlines', a large-scale installation on exhibition at the California African American Museum in Exposition Park in Los Angeles concerning visual historical consciousness that combines life-size and smaller sculptures, paintings, montages, maps, audio recordings, slave ship, cotton field, and genealogy tableaux, and other elements by Los Angeles sculptor, painter, and multi-media artist Toni Scott.
● Book Reviews

African Entrepreneurship in Jos, Central Nigeria, 1902-1985
[ view PDF ]
Diaspora and Imagined Nationality: USA-African Dialogue and Cyberframing Nigerian Nationhood
[ view PDF ]
Malcolm X: A Life Reinvention
[ view PDF ]
● Books of Interest
[ view PDF ]
Yo Soy Negro: Blackness in Peru by Tanya Maria Golash-Boza, Neighborhood Rebels: Black Power at the Local Level edited by Peniel E. Joseph, Assata: In Her Own Words: I Have Advocated and I Still Advocate Revolutionary Change by Assata Shakur, No Longer an Oral Tradition: My Journey Through Percussion Notation byDoris Green, Chocolate and Corn Flour, History, Race and Place in the Making of 'Black Mexico' by Laura A. Lewis, A Lie of Reinvention: Correcting Manning Marable's Malcolm X edited byJared Ball and Todd Steven Burroughs, Redefining Black Power: Reflections on the State of Black America edited by Joanne Griffith, Africa Speaks, America Answers: Modern Jazz in Revolutionary Times by Robin D.G. Kelley, Panther Baby: A Life of Reflection & Reinvention by Jamal Joseph, Go-Go Live: The Musical Life and Death of a Chocolate City by Natalie Hopkinson, and Comparative Perspectives on Afro-Latin America edited by Kwame Dixon and John Burdick.
● Announcements
[ view PDF ]
24th Annual Cheikh Anta Diop International Conference, 34th Annual Kawaida Institute of Pan-African Studies Seminar in Social Theory and Practice, the International Conference on Africa and its Diaspora, Association for Black Culture Centers conference, and the Pan African Film Festival Film Competition Winners.