ARCHIVED ISSUE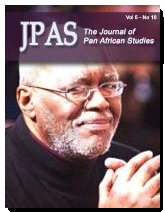 Volume 5 • Number 10 • 2013
This issue is dedicated to the memory of Jitu Weusi (1939-2013), an educator, community organizer, institution builder (Uhuru Sasa Schule, East Cultural and Education Center, National Black United Front), Pan Africanist, and family man from Brooklyn, New York.


On the cover: Jitu Weusi


● Black Power, Black Students, and the Institutionalizing of Change: Loyola Marymount University, 1968- 1978
by M. Keith Claybrook, Jr.
[ view PDF ]
This work explores Black student activism at Loyola Marymount University from 1968 to 1978 revealing how the climate and influence of Black Power energized and mobilized Black students to navigate and negotiate the university in their quest to demand respect, as well as gain the social and academic resources they needed to maximize their college experience.
● The Obamas and the Culture of Black Parenting in America
by Cassandra Chaney and Colita Nichols Fairfax
[ view PDF ]
The purpose of this paper is to examine Black men and women's attitudes regarding the ability of the Obamas to change the culture of Black parenting in America through African-centered theories. Specifically, participants in this pilot study were asked to read the New York Times article, "The Good Obama Can Do" and share their level of agreement or disagreement with the article, and provide a rationale for their response.
● Poetic Exploration of Political and Sociological Changes in Nigeria: The "Handwriting on the Wall" from Nigerian Poets
by Stephen O. Solanke
[ view PDF ]
This paper avers that the Nigerian poet has gone a step further by not just writing and complaining but by proffering ways out of the imbroglio Nigeria has been enmeshed in by its near inept leadership. Hence, through the various poems examined, Nigerian poets have demonstrated to be visionaries and inspirers for the citizenry that dream of a better nation.
● Same-Sex Relationship Among Tertiary Institution Students in Ibadan
by Ewere Nelson Atoi and Usman Adekunle Ojedokun
[ view PDF ]
The acceptability of same-sex relationship remains a contentious issue of debate in Nigeria despite the passage into law of the bill that proscribes it. While its antagonists oppose it because they believe it is a violation of their religious belief, the protagonists claim such law is an infringement on their fundamental human right and freedom. This paper, therefore, examines the disposition and attitude of students at four tertiary institutions in Nigeria.
● The Sexual Politics of the Female Body in Contemporary Zimbabwean Youth Sociolects in Interpersonal Communicative Contexts
by Collen Sabao
[ view PDF ]
This article seeks to demonstrate how the gender politics of inequality are played in such highly sexualized everyday discourse within Zimbabwean youth sociolects. Largely viewed as apolitical and common sense, such descriptions of the sexual script are highly ideologically loaded, asserting male hegemony and 'othering' the female. The paper also interrogates theories and approaches in representation, (re)construction of gender identities, language and communication; and argues that the 'common sense' usage of highly gendered and sexualized verbal formatives is not politically innocent but part of the culturally/socially ingrained and institutionalized construction of gendered subjectivities.
● Book Review
[ view PDF ]
There Was a Country: A Personal History of Biafra (New York: Penguin Books, 2012, pp. 352, ISBN: 1594204829) by Chinua Achebe reviewed by Idowu Olawale.