ARCHIVED ISSUE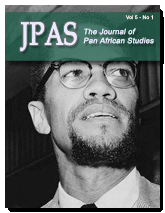 Volume 5 • Number 1 • 2012
On the Cover: Malcolm X at Queens Court in 1964
Source: Library of Congress.
Photo (New York World-Telegram & Sun Collection)
by Herman Hiller, World Telegram staff photographer



● In Memory: Eleazu S. Obinna
[ view PDF ]
● Black Farmers United: The Struggle Against Power and Principalities
by Gary R. Grant, Spencer D. Wood, and Willie J. Wright
[ view PDF ]
Based on firsthand accounts, primary documents and existing literature, this essay situates an historical recounting of the Pigford case from its historical and grassroots beginnings to the recent signing of Pigford II, and the racially and politically motivated accusations against Shirley Sherrod within a theoretical framework of institutional racism.
● Climatic Change and Female Reproductive Health: The Case of Traditional Medicine in Tanzania
by Nancy Alexander
[ view PDF ]
This paper argues that there is a need for government support in analyzing and documenting traditional medicine for an immediate rescue given that climatic change cannot be avoided, thus good planning is required to reduce vulnerability and recovery costs considerably.
● Enhancing the Culture of Reading in Rwanda: Reflections by Students in Tertiary Institutions
by Pierre Canisius Ruterana
[ view PDF ]
This study investigates students' reflections on their previous reading experiences and discusses ways to develop literacy and a reading culture in Rwanda.
● Exorcising the Colonial Jinx: Towards Reconciling Diversity and Pedagogy in Zimbabwe's Religious Education Curriculum
by Godfrey Museka
[ view PDF ]
This contribution calls for genuine reforms to the syllabi in Zimbabwe's religious education curriculum to address the current cosmetic multi-faith appendages to the syllabi.
●Female Husbands in Igbo Land: Southeast Nigeria
by Kenneth Chukwuemeka Nwoko
[ view PDF ]
This paper argues that unlike other societies, women to women marriages in Igbo land were not contracted in response to sexual emotions or attractions of the couples, but simply as an instrument for the preservation and extension of patriarchy and its traditions.
● A Black Woman's Search for the Transdisciplinary Applied Social Justice Model: Encounters with Critical Race Feminism, Black Feminism, and Africana Studies
by Menah Pratt-Clarke
[ view PDF ]
This contribution examines the journey of a descendant of the Creoles of Freetown, Sierra Leone to construct and develop an Afrocentric, praxis-oriented, theoretical, and methodological approach for addressing the marginalization, exclusion, and disenfranchisement.
● From Diop to Asante: Conceptualizing and Contextualizing the Afrocentric Paradigm
by Abdul Karim Bangura
[ view PDF ]
Employing a descriptive case study, this article presents and analyzes the essentiality of conceptualizing and contextualizing Africancentricity based on works by African-centered scholars ranging from Cheikh Anta Diop to Molefi Kete Asante. Hence a systematic discussion demonstrates why and how Africancentricity promotes a greater comprehension of African phenomena.
● Gadaa (Oromo Democracy): An Example of Classical African Civilization
by Asafa Jalata
[ view PDF ]
This work briefly introduces and explains the essence of indigenous Oromo democracy and its main characteristics generally relevant to the current condition of Africa, and specifically to Oromo society.
● Lexicological Development of Kalabari Language in the Age of Technology: A Comparative Study of French and Kalabari
by Priye E. Iyalla-Amadi
[ view PDF ]
In this article, the aim is to achieve a technical language structure for Kalabari speakers through a comparative study with French.
● Neo-Colonialism: American Foreign Policy and the First Liberian Civil War
by George Klay Kieh, Jr.
[ view PDF ]
This work suggests that literature has not given attention to the importance of the external factors in contributing to the occurrence of civil war in Africa, and accordingly, this article seeks to examine the role American neocolonialism played in the first Liberian civil war.
● El Despeertar de Las Comunidades Afrocolombianas
[ view PDF ]
A book review by Jorge E. Porras (Sonoma State University) of El Despeertar de Las Comunidades Afrocolombianas (The Awakening of Afro-Colombian Communities) edited by María Inés Hernández.
● Rethinking Malcolm Means First Learning How to Think: What Was Marable Thinking? And How?
by Abdul Alkalimat
[ view PDF ]
This review of the book on Malcolm X by Manning Marable is a critique of perspective, philosophy, and politics. The critique is based on a Black perspective meaning positive deference to the unbroken tradition in the Black community toward Malcolm X in terms of memory, respect, emulation, documentation, and active debate.
● The Second Assassination of Malcolm X: A Critical Review of Manning Marable's Biography
by John Andrew Morrow
[ view PDF ]
A critical review of Manning Marable's biography on Malcolm X which argues that the author attempted to undermine the integrity and dignity of Malcolm X.
● The Fault Lies Not in Our Starts, But in Our Biographers: Minutes to Midnight, Manning Marable Succumbs
by Todd Steven Burroughs
[ view PDF ]
A review of Malcolm X: A Life of Reinvention by Manning Marable, critical of the author's limited interviews, extensive use of established secondary sources, and controversial allegations.
● Black Megachurch Culture
[ view PDF ]
A book review by Eric R. Jackson of Black Megachurch Culture: Models for Education and Empowerment by Sandra L. Barnes.
● Review and Reflections: Music and Dance Traditions of Ghana
[ view PDF ]
A reflective book review by African dance and music scholar Doris Green of Music and Dance Traditions of Ghana History, Performances and Teaching by Paschal Yao Younge.
● Cheikh Anta Diop: Great African Scholar Revisited
[ view PDF ]
A brief outline of key ideas in the work of Cheikh Anta Diop focused on Africa as the source of human history and civilization, and the remarkable continuity of the continent, originally presented in 1986 by Babacar Sall.
● Dissertation Abstracts: JPAS 2011 Selections
[ view PDF ]
A collection of fifty-five dissertations completed in 2011 relevant to the history, culture and politics of the African experience, selected by the senior editor of The Journal of Pan African Studies.
● African Culture and the Status of Women: The Yoruba Example
by O.O. Familusi
[ view PDF ]
This paper discusses the status of Yoruba women in traditional Africa from a holistic perspective with emphasis on how culture has impacted negatively on their well-being, and recommends that harmful cultural practices should be discarded, while caution should be exercised in the quest for the liberation of women to ensure that African cultural values can be retained, and thus, not destroyed under the guise of civilization.