CURRENT ISSUE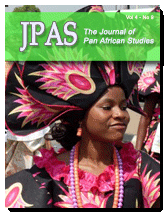 Volume 4 • Number 9 • 2012
On the Cover: Festive Festival: Nigeria



● Richard Wright's Interrogation of Negritude: Revolutionary Implications for Pan Africanism and Liberation
by Julian Kunnie
[ view PDF ]
This paper discusses the Richard Wright's critiques of negritude as proposed by Africana philosophers like Leopold Senghor and Aimé Cesaire by illuminating the significance of his works that critiqued capitalism.
● Get Your Gele: Nigerian Dress, Diasporic Identity, and Translocalism
by Jessica Strübel
[ view PDF ]
This study explores Texan-Nigerian-American's levels of ethnic identity and self-esteem as compared to other immigrant groups and ethnic minority groups in the state of Texas in the United States.
● Politics for God: Religion, Politics and Conflict in Democratic Nigeria
by Hakeem Onapajo
[ view PDF ]
A discussion of the phenomenon of religious politics in Nigeria situated within the context of the growing theoretical discourse on the global resurgence of religion in politics, and its significance to modern politics, and how it accounts for increasing conflict
● Leading Postmodern African Organizations: Towards A Model of Prospective Commitment
by Uzoechi Nwagbara
[ view PDF ]
This paper argues for an African oriented management and leadership paradigm couched in postmodernism.
●Children's Reflections on Gender Equality in Fairy Tales: A Rwanda Case Study
by Pierre Canisius Ruterana
[ view PDF ]
The purpose of this study is to investigate how educational use of Rwandan children's literature, mainly fairy tales, can challenge traditional gender roles in Rwandan education.
● Indigenous Weather Forecasting: A Phenomenological Study Engaging the Shona of Zimbabwe
by Tasara Muguti and Richard Shadreck Maposa
[ view PDF ]
The aim of the paper is to expose Shona indigenous techniques of forecasting weather, and thus it works to outline the complementary role of the indigenous methods of Shona weather forecasting with modern scientific techniques.
● Nat Turner: The Complexity and Dynamic of His Religious Background
by Jakobi Emon Williams
[ view PDF ]
This contribution addresses the merger of African Christianity and pre-Christian African religious practices to exhibit its relationship to Nat Turner, and why most scholars have overlooked Turner's African religious background.
● Living the Indigenous Ways of Knowing: The African Self and a Holistic Way of Life
by Ahmed Ilmi
[ view PDF ]
A theorized paper on personal Diaspora indigenous African experiences in Canada involving indigeneity utilizing traditional Somali concepts to strengthen in the Somali community.
● Chinua Achebe's The Education of A British-Protected Child
[ view PDF ]
A book review of The Education of a British-Protected Child by Chinua Achebe conducted by Uzoechi Nwagbara.
● Born to Use Mics
[ view PDF ]
A book review by Demetrius Noble of the anthology Born To Use Mics: Reading Nas's Illmatic edited by Sohail Daulatzai and Michael Eric Dyson, featuring renowned writers and critics who examine the songs of Nasir "Nas" Jones' debut album Illmatic, released in 1994
● Announcements
[ view PDF ]
National Council for Black Studies conference in Atlanta, Georgia, March 7-10, 2012. 2nd Biennial Kwame Nkrumah International Conference, September 21-24, 2012 at Kwame Nkrumah University of Science and Technology in Kumasi, Ghana.