CURRENT ISSUE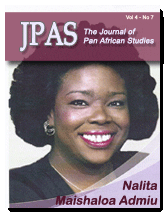 Volume 4 • Number 8 • 2011
On the Cover: Nalita Maishaloa Admiu (1955-2011)



● In Memory: Nalita Maishaloa Adimu
[ view PDF ]
● Letter to the Editor
by Doris Green
[ view PDF ]
● The Global Presence of African Civilizations: An Interview with Runoko Rashidi
by Lola Balola
[ view PDF ]
An interview with I editorial board member and FeelNubia.com trustee Runoko Rashidi during his June 2011 visit to Abuja, Nigeria.
● NEPAD: An African Spirit for Renewal
by Masimba Tafirenyika and Ernest Harsch
[ view PDF ]
An interview with Richard Mkandawire of the NEPAD Planning and Coordinating Agency in Midrand, South Africa
● Black in Latin America: An Interview with Dr. Henry Louis Gates, Jr.
by Kam Williams
[ view PDF ]
An interview of with Henry Louis Gates, Jr. about his PBS series Black in Latin America.
● Traditional Folklore and the Question of History in Erna Brodber's Louisiana
by Jérémie Kroubo Dagnini
[ view PDF ]
This paper is aimed at studying the particulars of Erna Brodber's third novel Louisiana which explores the various facets of Caribbean and African-American culture.
●The Zimbabwe Pan African Youth Agenda: Constructing Activist Synergy in Zimbabwe
by Itibari M. Zulu
[ view PDF ]
An interview of the Zimbabwe Pan African Youth Agenda which outlines their goals, mission and projects in Zimbabwe.
● Interrogative Questions as a Device for the Representation of Power in the Selected Texts of Akachi Adimora-Ezeigbo
by Temitope Abiodun Balogun
[ view PDF ]
This paper investigates how interrogative clauses are used to perform various functions within society, and how they are used to exhibit power within different human structures.
● Women, Shared Leadership, and Policy: The Mano River Women's Peace Network Case Study
by Stephanie Anne Johnson
[ view PDF ]
This case study engages the question of the how a women's peace network West Africa is unique in the field of peacekeeping, based on the belief that women's collective contributions play a major role in African peacekeeping.
● Pastoral Land Rights and Protracted Conflict in Eastern Sudan
by Yasin Abdalla Eltayeb El Hadary and Narimah Samat
[ view PDF ]
This article focuses on the insecurity of land rights and its association with pastoral conflict in the Gedarif state of eastern Sudan.
● Black Fire: One Hundred Years of African American Pentecostalism
by Michael T. Tillotson
[ view PDF ]
A book review by Eric R. Jackson of a work that recounts the story of African American Pentecostal origins and development.
● Media Received
[ view PDF ]
Savvy, Sassy and Bold After 50: A Midlife Rebirth, The Blood From My Roots: The Agony and the Hopes of a People, People of Faith: Slavery and African Catholics in Eighteenth-Century Rio de Janeiro, Blacks & Blackness in Central America: Between Race and Place, As I Run Toward Africa, Bad Friday: Rastafari After Coral Gardens, and The Other Side of the Water: The Journey of a Haitian Rara Band in Brooklyn.