ARCHIVED ISSUE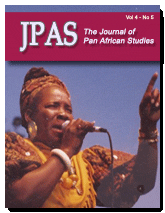 Volume 4 • Number 5 • 2011

On The Cover:
Rita Marley
[photo by Antonio Pulido]

Get Adobe Reader now.
Its the required viewer for these articles.
● In Memoriam for Abdias do Nascimento 1914-2011
by Molefi Kete Asante
[ view PDF ]
● Baba Hannibal Tirus Afrik: In Memory of a Teacher and Institution Builder
[ view PDF ]
● Clyde A. Woods: Friend and Scholar
[ view PDF ]
● The Baltimore Afro American's PanAfrican Consciousness Agenda, 1915-1941
by Baiyina W. Muhammad
[ view PDF ]
This contribution uses a Pan-African paradigm to examine the Baltimore Afro American newspaper coverage of, and support for, three major Diaspora areas: Haiti, Liberia, and Ethiopia between 1915 and 1941 which focused on political, social, and economic happenings that directly affected the global Black community. Thus the paper examine the definition of Pa-Africanism and the ways in which the newspaper put forth its own Pan-African agenda as it relates to each of the three Diaspora communities.
● The African-American Contribution to the Liberation Struggle in Southern Africa: The Case of the African Liberation Support Committee, 1972-1979
by Edward O. Erhagbe
[ view PDF ]
This paper examines among other issues the main objectives for the African Liberation Support Committee establishment and activities, and offers a critical evaluation of the contributions of the organization to African liberation.
● Acting Out: Performing Memory of Enslavement in Ouidah, Benin Republic
by Toni Pressley-Sanon
[ view PDF ]
Using examples from Ouidah in the Benin Republic this essay examines a few ways that the descendants of slave traders, the enslaved and witnesses "act out" issues of trauma resulting from a slave-trading history, sometimes with the conscious hope of healing the physical and psychic rupture between African and African peoples around the world.
● "Gettin' on My Last Nerve": Mental Health, Physiological and Cognitive Implications of Racism for People of African Descent
by Evangeline A. Wheeler, Leonie J. Brooks, and Janae C. Brown
[ view PDF ]
An exploring of recent research examining racial discrimination and institutional racism as a critical factor in deleterious health outcomes affecting, disproportionately, people of African descent living in the United States that provides an analysis of the intra-cultural differences which suggests solutions to longstanding race-related health disparities.
● A Pan-Africanist Analysis of Black Seminole Perceptions of Racism, Discrimination, and Exclusion
by Ray Von Robertson
[ view PDF ]
This study selected nine responses from a pool of twenty-six interviews, covering two time periods, with identifiable Black Seminoles to discern feelings of racism, discrimination, and exclusion of Black Seminoles by the Seminole Nation of Oklahoma, evaluated through a Pan-Africanist model using latent-content analysis.
● Locating African Personhood Theory and Praxis: Filling the Gap in Social Welfare Programs
by Colita Nichols Fairfax
[ view PDF ]
This paper explores the need for better community programming that engage the best in cultural developmental theory in understanding the modern African person.
● Ezigbo Mmadu: An Exploration of the Igbo Concept of a Good Person
by Christopher Agulanna
[ view PDF ]
In this paper, it is discovered that the challenges of modernity and the harsh social environment in which the modern Igbo live has tinted their conceptualization of who is a good person (ezigbo mmadu). Thus the paper identify the reasons for the devaluation of this once venerated concept or social exemplar, and proffers possible remedies to overcoming this unexpected social construct.
● The First and Only Letter to Amai
by Devi Dee Mucina
[ view PDF ]
The aim of this paper (letter) is to highlight how colonialism has inflicted spiritual and physical injury upon the Black family through imposing its memory while systematically endeavoring to annihilate and extinguish any traces of collective memory. Thus, the author writes a letter to his mother as a way to give strength to efforts to bring families together, as a starting point for healing from the spiritual and physical injuries of colonialism.
● Nollywood at the Borders of History: Yoruba Travelling Theatre and Video Film Development in Nigeria
by Abiodun Olayiwola
[ view PDF ]
This paper investigates the contributions of the Yoruba travelling theatre practitioners to the emergence of what is now known as the Nigerian video film industry, and concludes that while Living in Bondage may have popularized the genre, the Yoruba popular theatre practitioners initiated video film production in Nigeria.
● The Path Towards Literary Liberation: The Role of the African Worldview in Conducting an African Centered Analysis of Jacob's Ladder
by Aimee Glocke
[ view PDF ]
Using African/Black culture and the African worldview as the lens for examination, this essay conducts an African centered literary analysis of the Black novel entitled Jacob's Ladder by John A. Williams. Thus, the paper provides a cultural reading of the text and also works to re-center African/Black literature as a body of knowledge in the discipline of Black Studies by demonstrating how the inclusion of the African worldview is essential to any discussion of African/Black literature that can assist in laying the foundation for future African centered literary theories in Black Studies.
● Postcolonialism and the Politics of Resistance: Ngugi Wa Thiong'o's Wizard Of The Crow
by Ugwanyi Dele Maxwell
[ view PDF ]
This essay investigates the external and internal intricacies in the struggle for the soul of postcolonial Africa, and suggest that the work of Ngugi wa Thiong'o is the most appropriate in regards to resistance literature in Africa.
● Recovering the Rubble: African American Assemblage Art in Los Angeles
by Paul Von Blum
[ view PDF ]
This contribution contends that few are fully aware of how the Watts Towers, perhaps the most famous example of folk art in the world helped catalyze an artistic renaissance in the African American creative community in Los Angeles, California when artists Noah Purifoy, Betye Saar, John Outterbridge, David Hammons, John Riddle, and others collected and transformed objects and other materials into powerful artworks that often expressed trenchant anti-racist social and historical commentary.
● 'Black Spanish' Speech as Ethnic Identity in Afro-Colombian Poetry: The Case of Candelario Obeso
by Jorge E. Porras
[ view PDF ]
This paper is an analysis of the poetic discourse of Afro-Colombian writer Candelario Obeso, as exhibited in his Cantos populares de mi tierra (Popular chants of my homeland, henceforth Cantos) via a linguistic and socio-ethnic approach which describes relevant 'Black Spanish' (i.e., Afro-Hispanic) linguistic features with extra-linguistic entities associated with ethnic, social;, and cultural characteristics.
● Book Review
[ view PDF ]
Nigeria's National Interests in a Globalizing World: Further Reflections on Constructive and Beneficial Concentricism edited by Bola Akinterinwa, reviewed by Hassan A. Saliu.
● Books Received
[ view PDF ]
● Announcements
[ view PDF ]
National Conference on African/Black Psychology, Centre for Black and African Arts and Civilization, Pan African Solidarity: Haitian University Students Welcomed in Senegal, Goodwill Ambassador Danny Glover visits Cuba to support people of African descent.