CURRENT ISSUE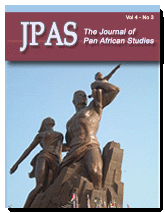 Volume 4 • Number 3 • 2011
The African Renaissance Monument (French: Le Monument de la Renaissance africaine), a 49m tall bronze statue outside of Dakar, Senegal.



● Complex Trauma: A Critical Analysis of the Rwandan Fight for Liberation
by Marissa N. Petersen-Coleman and Sujata R. Swaroop
[ view PDF ]
This paper is rooted in a phenomenological understanding of Rwandan trauma and healing experiences, focused on examining healing narratives of those who were impacted by the 1994 genocide, and the need for transnational trauma interventions for people of African descent in and outside the continent of Africa.
● Tuobodom Chieftaincy Conflict in Ghana: A Review and Analysis of Media Reports
by Mansah Prah and Alfred Yeboah, et al
[ view PDF ]
A collective paper by students in an undergraduate 'conflict and conflict resolution' course at the University of Cape Coast, Ghana which seeks to analyze the Tuobodom chieftaincy conflict as reported in the Ghanaian print and electronic media between March 5, 2010 and April 5 2010.
● Educating for Democracy in Haiti: Theoretical Considerations in Support of a Dialogic Model
by Diane Allerdyce
[ view PDF ]
This paper proposes a democratic and dialogic theoretical framework on which a workable education reform model might rest and suggest that only by educating people to think critically and become problem-solvers in their own right might Haiti grow a virtuous, ethical leadership from the ground up rather than continuing to depend on charity and thus to be disproportionately influenced and ruled by foreign economic interests.
● Ancestral Additions: The Legacy Grows
by Paul Von Blum
[ view PDF ]
Prominent African American artists have passed on, leaving a creative void that will be impossible to fill for generations. Hence, in this pictorial essay, it is argued that it is time to take pause to remember and honor those remarkably talented African American visual artists whose lives have recently ended, but whose legacies will endure for decades to come
● Cartoons as Illustration: Political Process in Nigeria
by Akin Adejuwon and Shina Alimi
[ view PDF ]
The use of cartoons as a means of portraying social realism did not gain currency until 1930s when the West African Pilot newspaper blazed the trail. Since then, cartoons have become pungent instruments of communication and illustration in Nigeria. Thus, this study critically analyzes selected political cartoons in several daily national newspapers in Nigeria.
● Philosophical Discourse by the Asante of Ghana: Mythology and Symbolic Analysis
by Nana Adu-Pipim Boaduo FRC
[ view PDF ]
This article introduces and discusses some of the mythological niceties and teachings among the Asante of Ghana in an attempt to investigate this often neglected arena of research.
● The Possibilities of Technological Development in Africa: An Evaluation of the Role of Culture
by Adebayo A. Ogungbure
[ view PDF ]
This paper is a philosophical attempt to examine the vital role culture plays in human scientific and technological explorations, and especially how the viable aspects of a people's culture can be explored for technological development in Africa. Therefore, the paper suggests that aspects of African culture can provide the primary base for scientific and technological development.
● Environmental Ethics: An African Understanding
by Ojomo, P.A.
[ view PDF ]
This paper is a contribution to the consolidation of an African orientation to environmental ethics through a critique and reconstruction of some of the misrepresentations of the African perspective to the environment, implicit in the arguments of Segun Ogungbemi and Godfrey Tangwa
● Arresting Historical Violence: Revolutionary Aesthetics and Alex La Guma's Fiction
by Uzoechi Nwagbara
[ view PDF ]
An examination of Alex La Gumas's novels, A Walk in the Night (1962), The Stone Country (1967) and In the Fog of the Season's End (1972) as artistic responses to overturn the logic of apartheid crafted to upturn equitable order as well as to circumvent the historical era. Hence, this work argues that La Guma's artistic vision is part of the process that reversed the history of apartheid South Africa.
● Imperfections in U.S. Foreign Policy Toward Oromia and Ethiopia: Will The Obama Administration Introduce Change?
by Asafa Jalata
[ view PDF ]
This paper argues that because of its perceived strategic national interest and the wrong advice it received from experts and racist assumptions about the Oromo, the U.S. government has allied with the Tigrayan minority elites to form a colonial government and to suppress the Oromo national movement. Thus, the major question becomes will the Obama administration respect the rights of African peoples in general and that of the Oromo in particular?
● Retrospective Analysis: The Movement Against African Centered Thought
by Michael T. Tillotson
[ view PDF ]
This paper reviews the political and ideological leanings of the staunch critics of Afrocentricity, and thus examines the intellectual trajectory of their arguments and exposes the anti-egalitarian positions located in their agenda.
● Book Review
[ view PDF ]
Review of Mediation of Patriarchy and Sexism by Women in South Africa
by Sujatha Moni
● Books of Interest
[ view PDF ]
From Douglass to Duvalier: U.S. African Americans, Haiti, and Pan Americanism, 1870–1964; African Americans and the Haitian Revolution: Selected Essays and Historical Documents; Forging Diaspora: Afro-Cubans and African Americans in a World of Empire and Jim Crow; Thelonious Monk: The Life and Times of an American Original; Rooming in the Master's House: Power & Privilege in the Rise of Black Conservatism; Long Distance Love
● Books Received
[ view PDF ]
African American Studies edited by Jeanette R. Davidson; Emerging African Voices: A Study of Contemporary African Literature edited by Walter P. Collins III; The Afro-Latin Reader: History and Culture in the United States edited by Miriam Jimenez Roman and Juan Flores; Mississippi in Africa: The Saga of the Slaves of Prospect Hill Plantation and Their Legacy in Liberia Today by Alan Huffman; Hotel Tropico: Brazil and the Challenge of African Decolonization, 1950-1980 by Jerry Davilla; The Elusive Promise of Indigenous Development: Rights, Culture, Strategy by Karen Engle; Clicko: The Wild Dancing Bushman by Neil Parsons; Blackness in the White Nation: A History of Afro-Uruguay by George Reid Andrews; Origins of Pan-Africanism: Henry Sylvester Williams, Africa, and the African Diaspora by Marika Sherwood; Afro-Mexico: Dancing Between Myth and Reality by Anita Gonzalez; Summer School by Demetrius Whye.
● Announcements
[ view PDF ]
Pan African Film Festival: 2011 Filmmakers Awards, The Thabo Mbeki African Leadership Institute