CURRENT ISSUE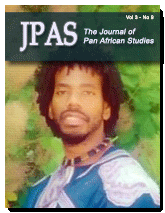 Volume 3 • Number 9 • 2010
On the Cover: Roland Barksdale-Hall is President of Jah Kente International, Inc. (www.jahkente.org) in Washington, D.C. and formerly a member of the editorial board of JPAS.

● In Memoriam

Baba Kamau Seitu: A Life of Transformation
by K. Tutashinda
[ view PDF ]


Teshome H. Gabriel
[ view PDF ]

● Black Marxism, Creative Intellectuals and Culture: The 1930s
by Tracy Flemming
[ view PDF ]
This comparative essay focuses on the relationship between theory and practice in the cultural work of Langston Hughes and Richard Wright during the 1930s with a particular look at Hughes's "To Negro Writers" (1935) and Wright's "Blueprint for Negro Writing" (1937) and some of their respective writings.


● The Grassroots Political Philosophy of Ella Baker: Oakland, California Applicability
by K. Tutashinda
[ view PDF ]
In this paper the grassroots political philosophy of Ella Baker is used in a historical context to serve as a reference point for speculations about contemporary affairs in Oakland, California.


● Classification: Colonial Attempts to Fracture Africa's Identity and Contribution to Humanity
by Nana Adu-Pipim Boaduo FRC & Daphne Gumbi
[ view PDF ]
This paper attempts to reveal the motive behind the colonial wrongs in terms of classification against African people in an attempt to kindle the souls of the living and departed to stand up to the challenges of identity.


● Teaching Science and Technology: The Employment of Indigenous African Languages
by Adeyemi Johnson Ademowo
[ view PDF ]
The preoccupation in this paper is on how African languages could be used effectively with dominant European languages in achieving African techno-scientific development.


● Shona Epistemology and Plato's Divided Line
by Fainos Mangena & Maxwell Mukova
[ view PDF ]
This paper compares and contrasts Plato's theory of knowledge as represented by the divided line with Shona conceptions of knowledge found in Shona traditional utterances to show the possible synergies and nuances between the two philosophical traditions.


● Dreams and Visions in Koranna and Griqua Revival in Colonial and Post-Apartheid South Africa
by Piet Erasmus
[ view PDF ]
In this article, it is argued that the current processes of ethno-political awakening, self-representation and revival amongst the Khoekhoe in South Africa are not taking place in a uniform manner. And secondly, that Koranna and Griqua leaders have used dreams and visions to activate political discourse which serve as an instrument for mobilizing support, and thus constituting a form of self-representation.


● Educational Attainment, Population Increase and the Progress of African Americans
by Amadu Jacky Kaba
[ view PDF ]
This paper argues that the African American population in the U.S. is not increasing rapidly, and therefore, a slow African American annual growth may have adverse economic and political implications in the years and decades to come.




● Afrocentricity and the Black Intellectual Tradition: Carter G. Woodson, W. E. B. Du Bois, and E. Franklin Frazier
by Greg Wiggan
[ view PDF ]
An examination of the lives of Carter G. Woodson, W. E. B. Du Bois and E. Franklin Frazier, their relationship, and their contribution to the development of Afrocentricity.




● The Storefront Church & Hip Hop Movements: Homiez from the Hood
by Valeria G. Harvell
[ view PDF ]
This article explores the frequently overlooked nexus between the development of the African American storefront church in Northern cities and the rise of the urban hip hop movement. Thus, the analysis identifies the common socioeconomic factors and divisions that gave impetus to both movements among inner city African Americans uprooted from Southern communities during the Great Migration north.




● Class Struggle, Resistance and the Revolutionary Pressures of Crisis in Post-Colonial Zimbabwe
by Smart E. Otu
[ view PDF ]
Using a class analysis model, this paper argues that post-colonial Zimbabwe is a classical case of intra and inter class struggle and posits that its history runs counter to the classical notion that social revolution can only be possible via well-developed productive forces.




● Lobola: The Perceptions of Great Zimbabwe University Students
by Excellent Chireshe & Regis Chireshe
[ view PDF ]
A study conducted to establish the views of Great Zimbabwe University students concerning the significance of the custom of Lobola wherein the overwhelming majority of respondents indicated that they wanted the custom to continue, however, they suggested that it not be commercialized.


● Education and Emancipation: An African Philosophical Perspective
by Omotoso, Sharon Adetutu
[ view PDF ]
This paper examines the nexus between education and emancipation from an African philosophical perspective to establish that while it is generally conceded in many quarters that education is necessarily related to emancipation, the nature of such relationship has not been clearly articulated. Thus, this paper examines the conceptual underpinnings of education and emancipation respectively, and establishes de facto that only an eclectic educational system consisting of indigenous African knowledge system and Western education can bring about holistic emancipation in contemporary Africa.


● Rhythms of the Gods: Music, Spirituality and Social Engagement in Yoruba Culture
by Bode Omojola
[ view PDF ]
The notions of icons as objects and icons as act are used in this work to analyze the mediatory role of Yorùbá musicians in meeting the spiritual and the social needs of their communities. The author explains that Yoruba performers are constantly aware of the discursive engagement between àsà (social engagement and cultural practice) and èsìn (spiritual devotion), and posits that there is a conceptual engagement between the mediating role of Yoruba performers and the thematic and structural features of their performances representing the constant interaction between play and spirituality as controlled by the agency of the performer which draws attention to how Yoruba religious belief is inscribed with social significance.


● Maulana Karenga: An Intellectual Portrait
A book review by Itibari M. Zulu
[ view PDF ]
A review of Maulana Karenga: An Intellectual Portrait by Molefi Kete Asante which examines the intellectual history of activist-scholar Maulana Karenga, the creator of Kwanzaa, and the architect of Kawaida philosophy.