ARCHIVE ISSUE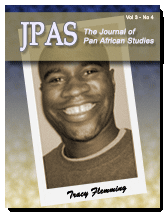 Volume 3 • Number 6 • 2010

On the Cover: Tracy Flemming ( tracy.flemming@gmail.com), Ph.D. candidate, Department of History, University of Michigan, Ann Arbor.


● Editorial
Leadership: Critical African Politics
[ view PDF ]


● In Memoriam
Donna Marcia Wells (1953-2009) [ view PDF ]
Imari Abubakar Obadele (1930-2010) [ view PDF ]
Tommy Jacquette-Halifu (1943-2009) [ view PDF ]
Ralston Milton "Rex" Nettleford (1933-2010) [ view PDF ]



● African Centered Leadership-Followership: Foundational Principles, Precepts, and Essential Practices
by Uhuru Hotep
[ view PDF ]
This paper examines the four cornerstones of African centered leadership-followership devised in 2000 at the Kwame Ture Leadership Institute. This model seeks to restore Black sovereignty in political, economic and cultural terms by utilizing African American and classical African socio-political ideals, values, practices and institutions.


● African Cosmology and the Duality of Western Hegemony: The Search for an African Identity
by Advice Viriri and Pascah Mungwini
[ view PDF ]
This paper attempts to deconstruct a myriad of negative images that denigrate the African continent as dark and seeks to place into proper context distortions of the original African creative intellect that has been twisted by Western hegemony. It further attempts to invalidate the stereotypes that were pervasively consecrated as historical truths in literature, philosophy, religion, and politics.


● Re-examining Current Paradigms and Concepts: Rural Development, Environmental Sustainability, and Poverty Alleviation in Africa
by Ezeanyika, Samuel Ezeanyika; Okorie, Hilarie Anyanwu; Agnes Osita-Njoku; Edith Chinwe Pat-Mbano, and Opurum, Innocent Okwu
[ view PDF ]
This article critically discusses some of the new paradigms, including decentralization, civil society, micro-entrepreneurship, and capacity building suggesting that these new paradigms should dynamically address the problems of development currently faced by the developing nations of Africa, instead of chasing shadows.


● 'Development Depends on Good Governance'
by President Barack Obama
[ view PDF ]
A short biography of U.S. President Barack Obama and the full text of a speech he delivered July 11, 2009 during his visit to the Republic of Ghana at the Accra International Conference Centre.


● 'We Cannot Afford to Fail Our People'
by H.E. Professor John Evans Atta Mills
[ view PDF ]
A brief biography and a speech by H.E. Professor John Evans Atta Mills, President of The Republic Of Ghana on the occasion of the visit of President Barack Obama of The United States of America to Ghana - 10th -11th July, 2009.


● 'We Are Now Called Upon to Implement Our Manifesto'
[ view PDF ]
An address by His Excellency Mr. Jacob Gedleyihlekisa Zuma on the occasion of his inauguration as the fourth President of the Republic of South Africa.


● Dealing with Africom: The Political Economy of Anger and Protest
by Gilbert L. Taguem Fah
[ view PDF ]
This paper derives from the assumption that US African Command is a continuation of American militarization of Africa and contends that the militarization of Africa is changing the local culture of violence for the worse. The efficient approach to checkmate the implementation of Africom in Africa should go beyond foreign policy options, and suggest that in order to stop the madness; Africa must harness the talents of civil society in and outside of Africa.


● Suvreillance Over a Zone of Conflict: Africom and the Politics of Securitisation of Africa
by Sabelo J. Ndlovu-Gatsheni and Victor Ojakorotu
[ view PDF ]
In this article the authors examine the security terrain within which Africom was established and reasons why there was a push for it to be established in Africa.


● Corruption in Africa South of the Sahara: Bureaucratic Facilitator or Handicap to Development?
by Okori Uneke
[ view PDF ]
Despite the fact that Africa's problems are multifaceted, corruption, particularly in countries where it has become an integral part of the social fabric, is a major handicap to sustainable development. While it may not be possible to completely eliminate corrupt practices, there is urgent need to curb its prevalence, thus a proactive agenda designed to discourage corruption and entrench ethical standards and accountability in public service in African states is recommended.


● The Rainbow Nation: Conscience and Self Adjudication for Social Justice, Governance and Development in the New South Africa
by Nana Adu Pipim Boaduo FRC
[ view PDF ]
From 1990 to 1993 South Africa ushered in a new philosophical and political ideology of reconciliation which climaxed in 1994. Thus, this political change requires new education to humanize all South Africans. How the new education can humanize South Africans is the core purpose of this analytical paper.


● Religious Studies Scholarship in Nigeria: The Professional Ethics Imperative
by Jacob Kehinde Ayantayo
[ view PDF ]
The paper observes that scholars have not written much on the need for professionalism in the teaching of Religious Studies and thus it works to fill the vacuum by suggesting that it be guided by code of ethics.


● The Ethiopian State: Authoritarianism, Violence and Clandestine Genocide
by Asafa Jalata and Harwood Schaffer
[ view PDF ]
This paper critically explores how the Euro-American intervention on the side of Amhara-Tigray successive state elites provided it with external legitimacy; how the convergence of identity, religion, and political power created a political culture of authoritarianism in Amhara and Tigray society ignored the life, liberty, and human rights of its multinational populace; the essence and consequences of the policies and practices of political authoritarianism in Abyssinia proper and state terrorism in the colonized parts of the Ethiopian Empire, and finally, how the Ethiopian state's policies and practices of political authoritarianism and state terrorism have undermined the processes of peace and development, and therefore proposes some pragmatic policies to boldly confront and solve these complex and difficult political problems.


● Building Trust in Kenyan Rural Public Health Facilities
by Collins Ogutu Miruka
[ view PDF ]
This paper is a case study concerned with the issue of a lack of trust in public institutions in rural health facilities in Kenya designed to explore factors that engender this practice and thus erode the requisite stocks of social capital that is required for good governance to take root at these facilities.


● Avatar: An Extension of White Supremacy
by Frederick Alexander Meade
[ view PDF ]
A critical review of the 2009 science fiction film Avatar set in the year 2154 on Pandora, a moon in the Alpha Centauri star system wherein the indigenous population resists colonial expansion which threatens their existence.


● Africa: The Politics of Suffering and Smiling
[ view PDF ]
A book review of Africa: the Politics of Suffering and Smiling by Patrick Chabal reviewed by Miracle Obeta.


● The Black Panthers and the Assassination of Fred Hampton
[ view PDF ]
A book review of The Assassination of Fred Hampton: How the FBI and the Chicago Police Murdered a Black Panther by Jeffrey Haas reviewed by Hans Bennett.


● Books Received
[ view PDF ]
Maulana Karenga: An Intellectual Portrait; "I Will Not Eat Stone": A Women's History of Colonial Asante; The Trickster Comes West: Pan-African Influences in Early Black Diasporan Narratives; Capitalism and the Transformation of Africa; African Agency and European Colonialism: Latitudes of Negotiations and Containment; Thomas Sankara Speaks: The Burkina Faso Revolution 1983-1987; In Search of the Talented Tenth: Howard University Public Intellectuals and the Dilemmas of Race, 1926-1970.


● Power and Womanhood in Africa: An Introductory Evaluation
by Afisi, Oseni Taiwo
[ view PDF ]
This paper identifies the indispensable role the woman plays in the society in an attempt to address the sense of inequality which revolves around the concept of gender in contemporary society which arguably fails to recognize the power the African woman possesses.


● Some Segmental Phonological Processes Involving Vowels in Nambya: A Preliminary Descriptive Account
by Maxwell Kadenge
[ view PDF ]
A qualitative analysis of some phonological processes involving vowels in Nambya, and describes Nambya phonological processes involving vowels such as vowel harmony, glide formation, vowel elision, and vowel coalescence.


● Jeune Afrique 1961-1971: U.S. Race Relations
by Moussa Sissoko and Rosemary Traoré
[ view PDF ]
In this article, the authors look at the African perspective on U.S. race relations in the 1960s through the lens of Jeune Afrique, a major source of news for the African continent, particularly francophone Africa.


● On Pursuit of the Purpose of Life: The Shona Metaphysical Perspective
by Munyaradzi Mawere
[ view PDF ]
This work questions of the purpose of human life as it is traditionally viewed by the Shona of Mozambique and Zimbabwe, and thus examines how we can seek to understand the purpose of human life on earth.


● Announcements
[ view PDF ]
Doctor of Philosophy degree in Africology offered within the College of Letters and Science at the University of Wisconsin-Milwaukee; UN Secretary-General designates Stevie Wonder United Nations Messenger of Peace; in celebration of its 40th anniversary, the Africana Studies and Research Center at Cornell University will host 'Looking Back/Moving Forward: The Future of Africana/Black Studies'. 'Negotiating the African Presence: Rastafari Livity and Scholarship Rastafari conference at the University of the West Indies, Mona, and the United Nations announcement by UN Secretary-General Ban Ki-moon regarding the announcement of songwriter and musician Stevie Wonder as United Nations' Messenger of Peace with a special focus on people with disabilities which includes photos of Mr. Wonder and a December 2009 interview of Mr. Wonder by Gerry Adams of UN Radio.