ARCHIVE ISSUE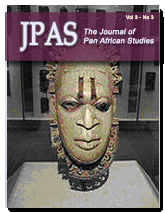 Volume 3 • Number 3 • 2009

ON THE COVER: Bini Mask


●Nigeria: The Giant of Africa
Editorial
[ view PDF ]


● Changing the Canon: Chinua Achebe's Women, Public Sphere and the Politics of Inclusion in Nigeria
by Uzoechi Nwagbara
[ view PDF ]
This paper examines the subjugation of Nigerian women with regard to how their political marginalization constricts the public sphere.


● Violence Against Women in Nigeria: How the Millennium Development Goals Addresses the Challenge
by Elizabeth Abama and Chris, M. A. Kwaja
[ view PDF ]
This document highlights the connections between the Millennium Development Goals and the prevention of violence against women by showing how working towards the goals will reduce violence against women.


● Elections and Democratic Survival in the Fourth Republic of Nigeria
by S.M. Omodia
[ view PDF ]
This paper discusses elections and democratic survival in the Nigeria with specific focus on the Fourth Republic from the functional perspective of political parties.


● A Philosophical Defence of Punishment in Traditional African Legal Culture: The Yoruba Example
by Oladele Abiodun Balogun
[ view PDF ]
The paper attempts to provide a philosophical justification of punishment in Yoruba legal culture and argues that the institution of punishment is machinery for facilitating collective conscience of the Yoruba through frowning at impropriety of manners capable of being inimical to the developments of legal norms.


● Aso-Oke Production and Use Among the Yoruba of Southwestern Nigeria
by Makinde D.Olajide, Ajiboye, Olusegun Jide, and Ajayi Babatunde Joseph
[ view PDF ]
This paper therefore traces the evolution of traditional Aso-Oke production and its uses among the Yoruba of southwestern Nigeria and reveals the factors that are responsible for its declining patronage.


● Yoruba Traditional Medicine and the Challenge of Integration
by Oyelakin Richard Taye
[ view PDF ]
This paper argues to reject a recent call that Yoruba traditional medicine should be integrated into orthodox medicine.


● Objectivity and Balance in Conflict Reporting: Imperatives for the Niger Delta Press
by Chigozi Ijeomah Eti
[ view PDF ]
This work examines the surveillance and interpretation function of the press as critical to conflict discourse, and particularly highlights the crucial role of the grassroots media in providing a voice for non-elite segments of the society.


● Strategies for [Re]Building State Capacity to Manage Ethnic and Religious Conflict in Nigeria
by Chris, M.A. Kwaja
[ view PDF ]
This paper examines ethnic and religious conflicts in Nigeria in terms of its causes and impacts from 1999 to date and thus argues that the weakness of the state has impacted significantly on the management of ethnic and religious conflicts.


● Religious Interpretations and Re-Interpretations of Space and Environment in Nigeria: Implications for Interreligious Conflicts
by Jacob Kehinde Ayantayo
[ view PDF ]
The work hopes to offer a new definition of the environment to encourage religious practitioners to develop a new orientation and positive attitude to the environment.


● The Political Economy of Nigeria and the Continuing Agenda of Recolonizaton: A Challenge for Critical Knowledge Production
by Yunusa Kehinde Salami
[ view PDF ]
This paper tries to examine the structure of Nigeria as well as the processes of knowledge production that may free the nation from the present neo-colonial instruments of intellectual discourse.