ARCHIVED ISSUE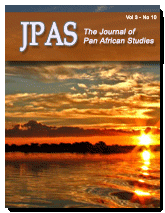 Volume 3 • Number 10 • 2010
● In Memoriam

Ronald W. Walters
[ view PDF ]



●The Interplay of Culture and Mathematics: The Rural Shona Classroom
by Ivy Chikodzi and Shumirai Nyota
[ view PDF ]
This article explores how rural Shona learners in mathematics can benefit from approaches that involve their environment, and engages how various cultural activities and games can assist Shona mathematics education.


● Political Dialoguing Through the Naming Process: The Case of Colonial Zimbabwe (1890-1980)
by Magudu Snodia, Tasara Muguti and Nicholas Mutami
[ view PDF ]
This paper argues that in Southern Rhodesia, one of the ways antagonism was reflected was through the naming process, which started immediately after the occupation and continued until national liberation in 1980. Hence, the settlers used the naming process to assert their claim and authority over newly acquired space, while the indigenous people, where possible, employed naming to communicate their displeasure with the new political reality.


● Information Use in African American Studies Doctoral Dissertations at Pennsylvania State University, 2000-2007
by Sylvia A. Nyana
[ view PDF ]
This study conducts a statistical analysis of document types, subjects covered, citation patterns, material age, and local availability of African American Studies dissertation bibliographies at Pennsylvania State University to discover that doctoral students are using a variety of sources, and older materials in their research.


● African Centered Text (1990-2000): A Decade of Protracted Engagement
by Itibari M. Zulu
[ view PDF ]
An introductory annotated bibliography of eighty African centered books on African religions, philosophy, cultural history and spirituality, published between 1990 and 2000. The premise of the exercise is to assist in articulating the particulars of Afrocentricity and the African centered paradigm.


● Post-Colonial Colonialism: An Analysis of International Factors and Actors Marring African Socio-Economic and Political Development
by Joy Asongazoh Alemazung
[ view PDF ]
The main argument in this paper is centered on the external factors contributing to the failures and lugubrious state of Africa due to colonialism and thus sustained through colonial legacies with the accomplice of the African elite.


● Pragma-criticism: An Afrieurocentric Reaction to the Bolekaja Agenda on the African Novel
by Afolayan, S. Olusola
[ view PDF ]
An analysis of the Bolekajacritics in Toward the Decolonization of African Literature who claim that their mission is to rescue Africa's prose literature from Eurocentric criticism based on the idea that excessive and indiscriminate Western theories have been applied to African literature.


● Dual Hegemonies: A Dialectical Appraisal of Niger-Delta Politics
by Uvie Edo
[ view PDF ]
This paper examines the case of the Niger-Delta sandwiched between dual hegemonies, foregrounding misappropriation of revenue accruing from oil resources. Thus, the paper interrogates the realist position of the hegemons, which graphically marks their departure from the idealist diplomacy serving as veritable means of subjecting the Delta to ideological manipulations.




● Phenomenal Consciousness: An Alternative Healing Method for Mental Illnesses
by Oyelakin Richard Taye
[ view PDF ]
This paper researches debates between physicalists and anti-physicalists about the possibility of the complete empirical explanation and reduction of the nature and property of subjective consciousness. Thus, the paper argues that phenomenal consciousness cannot be explained or reduced by physicalist which raises the issue of the need for psycho-mental experts and/or psychiatrics to enhance their expertise with an understanding of the nature and characteristics of phenomenal consciousness as an alternative healing method for psycho-mental illnesses in Africa, and in Nigeria particularly.




● Unmasking Hegemonic Monotheism: An Africalogical Assessment via Indigenous Afrikan Cosmology
by Ahati N. N. Toure
[ view PDF ]
This essay comparatively examines the monotheistic conception of the Judaeo-Christian Yahweh and the West Afrikan conceptions of religion and divinity.




● Epistemological Analysis: Conflict and Resolution in Africa
by Nana Adu-Pipim Boaduo FRC
[ view PDF ]
This paper contends that colonialists have had vested interest in the numerous African resources and will stop at nothing to get them irrespective of the consequences of their action. Hence, the post independence conflicts that have swarmed Africa leave much to be desired wherein the conflicts have their roots in the cunning propaganda of the colonialists who have resurfaced in independent African nations. Therefore, this presentation offers a detailed epistemological analysis of conflicts in Africa and provides suggested solutions to overcome them.




● Democracy and the Paradox of Zimbabwe: Lessons from Traditional Systems of Governance
by Munamato Chemhuru
[ view PDF ]
In this paper it is argued that democracy, good governance, peace and development in Zimbabwe rest on looking at the socio-political and economic order of traditional Zimbabwean society instead of relying on borrowed liberal democratic principles that have been a bag of mixed blessings to Zimbabwe's post independence era.


● Book Reviews


John Henrik Clarke and the Power of Africana History: Africalogical Quest for Decolonization and Sovereignty by Ahati N.N. Toure reviewed by Jahi Issa.
[ view PDF ]


Negro With a Hat: The Rise and Fall of Marcus Garvey by Colin Grant reviewed by Jahi Issa.
[ view PDF ]


● Books Received


Pan-Africanism/African Nationalism: Strengthening the Unity of Africa and its Diaspora
edited by B.F. Bankie and K. Mchombu.
Women's Spiritual Leadership in Africa: Tempered Radicals and Critical Servant Leaders by Faith Wambura Ngunjiri.
[ view PDF ]


● Journal Received


Illuminations: An International Magazine of Contemporary Writing.
[ view PDF ]