ARCHIVE ISSUE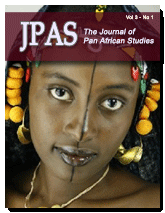 Volume 3 • Number 1 • 2009

ON THE COVER: Fatoumata Binta Diallo (hadjabintadiallo@gmail.com), a Guinean pupil of the Leydi Workshops of the school Métissacana de Oumy Sy in Dakar, Senegal directed by Oumy Sy.


● Confronting Challenges and Contradictions
by Itibari M. Zulu
[ view PDF ]


● From Political Prisoner to Johannesburg Public Library Manager: An Interview with Bongiwe Nkabinde
by Jocelyn Poole
[ view PDF ]
An interview with Bongiwe Nkabinde (Manager of Region C Roodepoort for the City of Johannesburg, South Africa) concerning her struggle during the apartheid era of South Africa held at the Johannesburg Public Library in the City of Johannesburg in South Africa following the International Federation of Library Associations (IFLA) World Library and Information Congress, 73rd General Conference and Council in Durban, South Africa.


● Creating a Library System that Serves the Needs of Rural Communities in Africa South of the Sahara
by Sylvia A. Nyana
[ view PDF ]
This paper reflects on some of the problems facing African libraries in the provision of information and services to rural communities, and calls for a library system that is sustainable and compatible with the oral tradition with an ability to make information in print relevant to rural populations where information and knowledge are communicated orally; question Western culture and information needs relevance to rural communities in Africa, and ask how can African librarians be better educated to meet the information needs of rural communities?


● Dr. William M. King Interviewed: National Council for Black Studies Founding Member
by Karanja Keita Carroll and Itibari M. Zulu
[ view PDF ]
An interview of National Council for Black Studies founding member and past president William M. King of the Department of Ethnic Studies at the University of Colorado at Boulder.


● Negro Notes from the U.S.A.: Social Perception and Interpretations of Race and Gender in the United States and South Africa, 1945-1965
by Holly Y. McGee
[ view PDF ]
This article seeks to uncover the ways in which the Black press in the United States and South Africa worked to combat the negative images/assumptions regarding their communities as portrayed in mainstream media outlets; and examine the public face of Black women, their lived experiences, and necessarily politicized work in the United States and South Africa during a time when both nations received an inordinate amount of attention from the global community to the politics of race in their countries.


● The Education of Africa South of the Sahara: A Comparative Analysis of Private and Public Education
by Abdourahmane Barry
[ view PDF ]
This paper via a brief overview of the development of private education in the Africa south of the Sahara, addresses the comparative analysis of the merits of private and public education, and policy issues emerging from the current trend of private education.


● National Integration in Liberia: An Evolving Pursuit
by Emmanuel O. Oritsejafor
[ view PDF ]
This paper suggest that the challenge for a post-conflict state such as Liberia involves the consolidation of democracy and the implementation of necessary steps to achieve sustainable development; and that a bottom-up communitarian approach may work in an effort to attain national integration in a post-conflict Liberia.


● Language Policy in Kenya: Negotiation with Hegemony
by Wendo Nabea
[ view PDF ]
This paper examines language policy in Kenya from colonialism to date, with a particular focus on education considering that in most cases lay Kenyans use language in ways that are incongruent to the official policy, the paper raises the argument that this is both mediation and contestation with linguistic hegemony.


● Indigenous Knowledge Systems in Zimbabwe: Juxtaposing Postcolonial Theory
by Jacob Mapara
[ view PDF ]
This paper argues that indigenous knowledge systems' emergence via Zimbabwe as an example is more than a case of a sudden realisation on the part of the international community; hence it is part of people reclaiming their identity, asserting their visibility and reclaiming their national freedom.


● African Englishes: The Indigenization of English Vowels by Zimbabwean Native Shona Speakers
By Maxwell Kadenge
[ view PDF ]
This work is inspired by the increasing literature chronicling the worldwide emergence of "new Englishes" particularly their subtype known as "African Englishes" In this context, this study seeks to critically examine the vocalic characteristics of the variety of English that is predominantly spoken as a second language in Zimbabwe.


● Shona Taboos: The Language of Manufacturing Fears for Sustainable Development
by William Lungisani Chigidi
[ view PDF ]
This article discusses the Shona system of taboos or avoidance rules based in Zimbabwe used as a way of influencing people to conform to social particular values and norms. And although the author acknowledges that this way of educating and knowing is now being marginalized, he argues for its preservation since it may serve as a potentially effective tool in the fight against the HIV/AIDS pandemic.


● The Relevance of 'Gata' Among the Shona of Zimbabwe in the Context of the HIV/AIDS Pandemic
by Dennis Masaka and Agrippa Chingombe
[ view PDF ]
This paper attempts to explain the continued relevance of 'gata' (consultation of a traditional healer to account for the death or life threatening illness of a person) in the context of HIV/AIDS pandemic in Zimbabwe.


● The Challenges of Prostitution and Female Trafficking in Africa: An African Ethico-Feminist Perspective
by Ademola Kazeem Fayemi
[ view PDF ]
The paper is an attempt to explore and defend African ethico-feminism as a viable complementary ideology for curbing the challenges of prostitution and female trafficking in 21st century Africa, and argues that African ethico-feminism is a new conception of feminism necessarily relevant to the African predicament on prostitution and female trafficking.


● Democracy and Africa's Search for Development
by Oyekan, Adeolu Ouwaseyi
[ view PDF ]
This paper investigates African proclivities towards democracy search for development and thus offers philosophical expositions to the missing gaps, and argues that the universal features that define democracy are requisites for development, however there are some peculiar factors that stringently inhibit it in Africa.


● Feminism: The Quest for an African Variant
by Sotunsa Mobolanle Ebunoluwa
[ view PDF ]
This paper examines to what extent womanism delineates the indigenous African women's experiences, worldviews and perception; and thus outlines some principles for a truly indigenous African womanist stance.


In Memoriam

E. J. Josey (1924-2009)
[ view PDF ]
Ivan Van Sertima (1935-2009)
[ view PDF ]
Mark DaCosta Alleyne (1961-2009)
[ view PDF ]
Tajudeen Abdul-Raheem (1961-2009)
[ view PDF ]