ARCHIVE ISSUE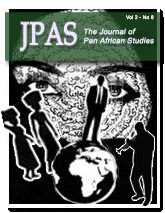 Volume 2 • Number 10 • 2009
● Graduate Studies and Research in Africana/Black Studies: Reflections and New Directions
by Karanja Keita Carroll, Associate Editor.
[ view PDF ]


● The State of Graduate Studies in Africana Studies: An Interview with Stephanie Y. Evans, Ph.D.
[ view PDF ]
An interview conducted by Karanja Keita Carroll of Stephanie Y. Evans, Assistant Professor of African American Studies and Women's Studies at the University of Florida in Gainesville. Evans is one of the most recent and consistent scholars of Africana Studies to investigate the state and future directions of graduate studies in Africana Studies. This interview investigates her perceptions of the directions, hurdles and prospects that the discipline faces in relation to graduate studies and research.


● The Critical Pedagogy of Black Studies
by Regina A. Bernard-Carreño.
[ view PDF ]
This essay engages the importance of a disciplinary pedagogy within undergraduate urban institutions for Black Studies students, and stresses the importance of these arguments to those trained specifically within Africana Studies.


● Remembering the Black Campus Movement: An Oral History Interview with Jimmy Garrett
by Ibram Rogers.
[ view PDF ]
An oral history interview conducted by Ibram Rogers with Jimmy Garrett, the founding member of the San Francisco State College (SFSC) Black Student Union, and a student activist who contributed to the development of the first Black Studies department in the nation at SFSC.


● A Blueprint for Black/Africana Studies: An Overview for African/African American/African Caribbean Studies
by Marquita Pellerin.
[ view PDF ]
This article functions as a blueprint for Africana Studies and interrogates previous blueprints in order to establish a foundation and create a universal framework for the future of discipline.


● Posterity and the Disciplinary Implications of Interdisciplinarity, Post-Raciality and Affirmative Action
by Shaun Ossei-Owusu
[ view PDF ]
This essay engages the future of Black Studies (and adjacent disciplines) by probing three critical issues: interdisciplinarity, the notion of post-raciality and the slow repeal of affirmative action; and argues that these issues are of critical importance and will substantively impact the future the discipline.