ARCHIVE ISSUE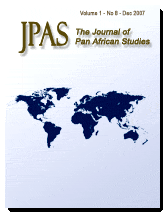 Volume 1 • Number 8 • 2007
● Editorial: Full Circle: Engaging African Diaspora Discourse and Dialogue
by Roland Barksdale-Hall.
[ view PDF ]


● Chinua Achebe in Jamaica: Speaking His Mind
by Barbara Ellington.
[ view PDF ]
An interview with renowned author Chinua Achebe concerning Africa, Pan Africanism, the significance of the Jamaica National Bicentenary Committee commemoration, and his literary achievements, upon his arrival in Jamaica to participate in the 200th anniversary of the end of the forced European transport of African people, across the Atlantic Ocean to the Caribbean.


● Chinua Achebe: A Bio-Bibliographic Review
by Roland Barksdale-Hall.
[ view PDF ]

● Patriarchal Symbolic Order: The Syllables of Power as Accentuated in Waswahili Poetry
by Clara Momanyi
[ view PDF ]
An analysis of the literary tradition of the Waswahili in east Africa that discuss socio-cultural, ideological and political influences in relationship to the question of masculinity as depicted in poetry via selected poems that perpetuate male-constructed stereotypes discriminatory towards women.


● African-Americans and American Foreign Policy
by Benita Johnson.
[ view PDF ]
This paper reports that African-Americans have historically articulated their concerns regarding American policy formation to become more than voices in the wilderness.


● At the Sources of the Contemporary African State: Late XIX Century Polity and Society in Monrovia and Freetown
by Giampaolo Calchi Novati.
[ view PDF ]
A historical and contemporary review of Liberia and Sierra Leone as a theatre of a cultural, social and economic evolution in their original path to statehood as both nations contained leading local status quo maintaining groupings who worked to prevent indigenous elite formations that could possibly create a radical mass movement.


● The Two West Africas: The Two Historical Phases of the West African Brain Drain
Amadu Jacky Kaba.
[ view PDF ]
This paper argues that West Africa is underdeveloped because it has experienced two phases of the brain drain consisting of enslavement and a post World War II skilled exodus, resulting in West African talent pool living and working abroad.


● Kwame Nkrumah and Political Marketing: Locating Campaign Strategy in Modern Political Campaigning
by Kobby Mensah.
[ view PDF ]
Using literature review and interviews as methods to identify events, instruments and approaches that were central to Kwame Nkrumah's political campaign, this work provides a look at how his strategies engaged his allies, and adversaries.


● Insights into Benin Traditional Methods of Disease Prevention
by C.O. Idehen and O.G. Oshodin.
[ view PDF ]
An examination of Benin traditional and cultural methods of disease prevention that consider the role of taboos and traditional medicine.


● The Testimony of William Hunter Dammond: The First African American Graduate of the University of Pittsburgh
by Roland Barksdake-Hall.
[ view PDF ]
An examination of the life of William Hunter Dammond (1873-1956), the first African American graduate of the Western University of Pennsylvania (now the University of Pittsburgh) which corrects a longstanding error in the official University of Pittsburgh history which listed John Coverdale Gilmer as the first African American graduate of the Western University of Pennsylvania, instead of William Hunter Dammond.


● American Africans in Ghana: Black Expatriates and the Civil Rights Era
a book review by Jahi Issa.
[ view PDF ]
A review of work that posits the ongoing Black Freedom Struggle in America into historical context by interjecting the importance of historical episodes of Pan-Africanism and inserting that American Africans were indeed internationalist; and thus the Ghanaian leadership publicly demonstrated their solidarity with the Black Freedom Struggle in the U.S.


● Last Grave at Dimbaza
a film review by Paul T. Miller.
[ view PDF ]
A review of the recently re-mastered 1973 documentary filmed clandestinely and smuggled out of the country because of its unflinching and critical assessment of apartheid.


● Profit and Nothing But
a film review by Paul T. Miller.
[ view PDF ]
A critical documentary about the emerging global economy and how the capitalist system is responsible for the misery of the world's "wretched of the earth". Hence, the film argues that capitalism is the cause for grinding poverty in Haiti specifically and in the developing world in general.


● Contemporary Challenges in Colombia: An Afro-Colombian Perspective
by Luis Gilberto Murillo-Urrutia.
[ view PDF ]
A testimony before the U.S. House Committee on Foreign Affairs Subcommittee on the Western Hemisphere hearing on "U.S. - Colombia Relations" focused on recent armed conflict, recent political tends, the plight of Afro-Colombians, and the question of environmental and natural resources in Colombia.