ARCHIVE ISSUE: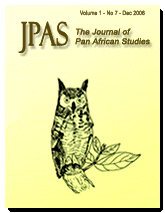 Volume 1• Number 7 • 2007
● Editorial: Engendering the Diaspora: Gender, Culture, Race and Identity in the Contemporary African World
by Yaba Amgborale Blay and Kaila Adia Story.
[ view PDF ]


● Women of Color Facing Feminism ~ Creating Our Space at Liberation's Table: A Report on the Chicago Foundation for Women's "F" Series
by Patricia Williams Lessane.
[ view PDF ]
This article examines the findings from The "F" Series, a collaborative program between the Chicago Foundation for Women and the Columbia College Center for the Study of Gender in the Media and Arts, which addressed the place of feminism in the lives of women of color, held in February 2006 at Columbia College.


● It's a M-A-N Thang: Black Male Gender Role Socialization and the Performance of Masculinity in Love Relationships
by Danielle M. Wallace.
[ view PDF ]
Through a discussion of gender socialization of Black children, this article reviews how socialization affects Black men and women as they perform gender specific scripts, and participate in romantic relationships.


● Queens of Consciousness & Sex-Radicalism in Hip-Hop: Erykah Badu & The Notorious K.I.M.
by Greg Thomas.
[ view PDF ]
A study of sex, politics and lyrical literature across within "Hip-Hop & Hip-Hop Soul" that champions the concept "sexual consciousness" against popular and academic assumptions that construe "sexuality" and "consciousness" to be antithetical in the tradition of "the mind/body split" of the white bourgeois West.


● Women Who Know Things: African Epistemologies, Ecocriticism, and Female Spiritual Authority in the Novels of Toni Morrison
by Kokahvah Zauditu-Selassie.
[ view PDF ]
An examination of Toni Morrison's novels as they mediate the distance between African belief systems and Western hemispheric realities of African people in America, and how she illustrates African women via reflections of traditional religions and indigenous values.


● L'illusion, c'est moi/La folie, c'est moi ("I am Illusion/I am Madness"): Madness, Merging and the Articulation of Universal Female Suffering in Calixthe Beyala's Tu t'appelleras Tanga
by Jennifer T. Westmoreland Bouchard.
[ view PDF ]
In Calixthe Beyala's 1988 novel, Tu t'appelleras Tanga, the protagonists are imprisoned as a result of their "subversive actions" who are arguably "mad." In this project, the author argue that as a result of their varying forms of madness and hybrid identities, they resist normative female constructions of identity, and thus are unclassifiable according to systems of categorization that would permit them to be part of French and African society.


● Conference Call: Toward an Africa without Borders: From Theory to Practice
[ view PDF ]
Toward an Africa Without Borders invites scholars and activists from all disciplines and professions to submit abstracts or panel proposals for consideration at their third international conference to be held in Durban, South Africa, July 5-8, 2007.


● Championing African Excellence: Ghana Celebrates 50 Years of Independence
On March 6, 1957, Ghana became the first nation in Africa south of the Sahara to gain independence from British colonial rule (2007, marks 50 years of independence). In celebration, year-long activities have been scheduled. For full details, consult http://www.ghana50.gov.gh, the official website for the 50th independence anniversary celebration of Ghana.