ARCHIVE ISSUE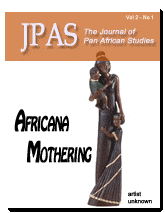 Volume 2 • Number 01 • 2007
● Introduction: Africana Mothering: Shifting Roles and Emerging Contradictions
by Deidre Hill Butler, Ph.D.
[ view PDF ]


● Rhetorically Constructed Africana Mothering in the Antebellum, Racial Uplift Tradition of Mary Ann Shadd Cary
by Carol Conaway, Ph.D.
[ view PDF ]
This analysis examines Mary Ann Shadd Cary's rhetorically constructed othermothering as a dimension of activist othermothering, the goal of which was to secure the welfare of black children and the entire black community in its quest between 1853 and 1860 for the rights and responsibilities of Canadian citizenship.


● The Lakou System: A Cultural, Ecological Analysis of Mothering in Rural Haiti
by Yanique M. Edmond, Ph.D., Suzanne M. Randolph, Ph.D., Guylaine L. Richard, M.P.H., M.D.
[ view PDF ]
This descriptive exploratory study uses a cultural-ecological framework to examine mothering and the role of family support within the lakou (group living) system in the rural province of Leogane, Haiti.


● Hear My Voice: An African American Mother's Experience Raising a Child with a Chronic Illness
by Yvette Q. Getch, Ph.D., Sharon Jones, Ph.D., Stacey Neuharth-Pritchett, Ph.D., Beth Chapmen, M.Ed.
[ view PDF ]
This qualitative study provides rich descriptions of a well-educated African American woman's experience raising a child with asthma, allergies, and eczema.


● Black Women, Mothering, and Protest in 19th Century American Society
by Marci Bounds Littlefield, Ph.D.
[ view PDF ]
Motherhood represents unique positions for black women in 19th century American society, black women's response to multiple and often conflicting roles was to create a new meaning of black womanhood, one that placed motherhood at the center of black women's existence.


● Mothering Children of African Descent: Hopes, Fears, and Strategies of White Birth Mothers
by Annie Stopford, Ph.D.
[ view PDF ]
Contributions of non-African mothers of African-other children add an important dimension to discussions about the complexities of postcolonial and Africana hybrid identities.


● Book Review: The Womanist Reader: The First Quarter Century of Womanist Thought
by Deidre Hill Butler, Ph.D.
[ view PDF ]