ARCHIVE ISSUE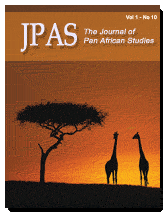 Volume 1 • Number 10• 2007
● Subscriber Profile: Solomon Gashaw, Ph.D.
Associate Professor of Sociology, University of Minnesota at Morris.
[ view PDF ]



● Editorial: Innovative Connections of Africana Cultures: Issues and Literatures with Policy Studies and Analysis
by guest editor Babacar M'Baye.
[ view PDF ]


● Gender Ideology, Global Africa, and the Challenges for Pan-African Studies in the 21st Century
by Diedre L. Badejo.
[ view PDF ]
Speaking to the regenerative powers of African cultures, this presentation suggest that oral texts and cultures provide a model for understanding the social, political, and cultural significance of African women's roles globally, hence supporting a broad and complex interpretation of Africana womanhood in visioning Africana Studies curriculum as a system of knowing and being, grounded in the valuation of leadership discourse and an ideological framework based on Odu Ifa narratives.


● Kimoh, Dar You Are!
by Wendy Wilson Fall and Charles Sow.
[ view PDF ]
An examination of the hidden meanings of a nineteenth-century African American song stationed in the linguistic parallels between Wolof and African American English which reveal a range of factors that incorporates the Wolof song as a creolized narrative of continuity, resistance, and invention in nineteenth century America.


● Who K(new): The Nation-ist Contour of Racial Identity in the Thought of Martin R. Delany and John E. Bruce
by Tommy J. Curry.
[ view PDF ]
Drawing from Derrick Bell's theory of racial realism as well as John A. Bruce's racial ideology, this article demonstrates the continuing significance of Delany's conception of Black people in America "as a nation within a nation"; juxtaposing an analysis of "nation-ism" in the writings of Delany and Bruce.


● Implementing Afrocentricity: Connecting Students of African Descent to Their Cultural Heritage
by Rosemary Traoré.
[ view PDF ]
An exploration into the misrepresentation of African people in European history texts and its effect on young African American students' perception of Africa via an interdisciplinary methodology drawn from history, education, and popular culture, arguing that exposing students to African and African American authors from an early age will help them counteract some of the stereotypes about Africa that permeates American culture.


● Postcolonial Theory and the African American Experience
by Tim Lake.
[ view PDF ]
Referring to Winthrop Jordan's book White Over Black and other pivotal texts, this work traces early contact between English and Africans from which commercial relationships developed and led to enslavement and colonialism, suggesting that the endurance of the "color line" as identified by W.E.B. Du Bois, also connects to the colonial state in Africa.


● Chief Fela Sowande, Traditional African Culture and the Black Studies Movement: A Student Remembers
by Mwatabu S. Okantah.
[ view PDF ]
A biography of Chief Fela Sowande outlining the importance of his writings and ideas concerning African culture to the cultural, social, and intellectual development of African Americans, and thus detailing the importance of African cosmologies and philosophies in the development of an African-centered Black Studies curriculum.


● Why the Rwandan Genocide Seemed Like a Drive-By Shooting: The Crisis of Race, Culture, and Policy in the African Diaspora
by Seneca Vaught.
[ view PDF ]
This work examines how Africa is viewed in Western thought, and how it is tied to the devaluation of African lives in Western political agenda (i.e., genocide in Rwanda), with links to racism; and demonstrates the importance of using African American popular culture as a bridge to understanding African American historical relations with Africa.


● African Americans, Pan African Policy Matters, and the Development of the Black Foreign Policy Constituency for Africa and the African Diaspora, 1930-1998
by Zachery R. Williams.
[ view PDF ]
A study of the relationships between African Americans and Africa during the twentieth century via U.S. foreign policy, resulting in a Black foreign policy constituency.


● Britain's Gulag: The Brutal End of Empire in Kenya,
a book review by A. Clare Brandabur.
[ view PDF ]


● We Won't Budge: An African Exile in the World,
a book review by Idris Syed.
[ view PDF ]