ARCHIVED: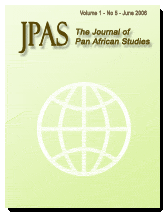 Volume 1• Number 5 • 2006
● Editorial: The Sankofa Process
[ view PDF ]


● Marcus Garvey and African Francophone Political Leaders of the Early Twentieth Century: Prince Kojo Tovalou Houénou Reconsidered
by Babacar M'Baye.
[ view PDF ]
An examination of the role African Francophone intellectuals and political leaders of the early twentieth century played in the global Black struggle for liberation and equality, with a special focus the influence of Marcus Garvey on Prince Kojo Tovalou Houénou of Benin.


● Critical Reflection on Amilcar Cabral's Criteria for Citizenship
by Victor S. Alumona.
[ view PDF ]
A focus on Amilcar Cabral's theory of citizenship, highlighting his definition of citizenship and the interest of Guinea-Bissau and the Cape Verde Islands, as a nation. The paper argues that some may accept the letters of citizenship criteria while their real convictions are elsewhere, and still others may accept the criteria in both the letter and spirit with deep slated convictions, thus, there is no objective standard for determining who is a genuine citizen.


● Paul Robeson's Linguistics Breakthrough
by Abdul Karim Bangura.
[ view PDF ]
An essay examining the linguistics breakthrough and discovery of Paul Robeson (he spoke more than twenty languages) associated with the common links in music through the pentatonic scale, which he demonstrated via five different tonal patterns, used regularly under certain conditions, and the common link between Chinese and African languages based on changes of tone and inflection that give new meaning to words and grammatical constructions within the Aorist form of Chinese and African languages to conclude that all ancient music is part of a common body of music based on a common means of expression-the pentatonic scale.


● What Went Wrong With Africa: A Contemporary History
[ view PDF ]
A book review by Paul T. Miller of What Went Wrong With Africa: A Contemporary History by Roel Van Der Veen.


● Salvador Declaration
[ view PDF ]
A document from the Conference of Intellectuals from Africa and the Diaspora.


● Beyond Visibility: Rethinking the African Diaspora in Latin America
[ view PDF ]
A 2007 conference call.