ARCHIVED: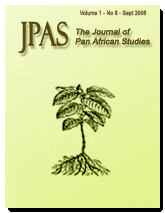 Volume 1• Number 6 • 2006
● Editorial: Africa and the Arts: Advancing Intertextuality
[ view PDF ]


● Subscriber Profile: Clara Momanyi, Ph.D.
A Journal of Pan African Studies' profile of the one hundredth subscriber, Clara Momanyi, a Senior Lecturer at Kenyatta University (Nairobi, Kenya).
[ view PDF ]


● NEPAD: Continuing the Disconnections in Africa?
by Karo Ogbinaka.
[ view PDF ]
This paper discusses NEPAD in relationship to capitalism and development initiatives, and thus argues that programs which alienate the general populace and the elite in Africa will fail should they not provide structure for self-development.


● Sculpting a Pan-African Culture in the Art of Negritude: A Model for African Artist
by Crystal Z. Campbell.
[ view PDF ]
Arguing that the culture and art of African people in Africa and in the Diaspora has been erased, misplaced or misinterpreted, this paper provides theoretical details on how movements spearheaded by African and African American leaders involving Pan-Africanism and Negritude emphasized culture as a means for holistic empowerment, and thus created a need for African people to define culture on their own terms.


● Historically Black Colleges and Universities: A Think Tank Resource for Africa
by Marcel Ngambi and Baruti I. M. Katembo.
[ view PDF ]
An exploration of the parameters of how historically Black institutions of higher learning in the U.S. can facilitate Africa's development on multiple fronts via their graduates and faculty to therefore provide economic/policy management advice and technology transfer to Africa, and other nations in the African world.


● The Collective Unconscious: An Opportunity for New Thoughts on the Existence of Independent Black Institutions and Black Achievement Theories
by Lawson Bush, V, Edward C. Bush, and Tonia Causey-Bush.
[ view PDF ]
A theoretical paper that employ the psychological theory of collective unconsciousness to understand the existence and persistence of Independent Black Institutions over a 10,000 year period to draw specific attention to the epoch of the enslavement of Africa people in the U.S., and thereafter works to construct a continuous line of history and experiences that conveys a particular educational disposition of African peoples from ancient times to the present.


● The Democratic Structure of Yoruba Political-Cultural Heritage
by Yunusa Kehinde Salami.
[ view PDF ]
This study argues that the social and political organization of traditional Yoruba society was established as a participatory democracy wherein some checks and balances permeated, although tensions existed between the monarchic aspects of the society.


● Kenya-U.S. Relations: The Urgent Need to Manage Kenya's Migrant and HIV-AIDS Brain Drain
by Amadu Jacky Kaba.
[ view PDF ]
A look at Kenya's relationship with the U.S via migration and terminal brain drain that suggestions the two nations could work together to manage current challenges engaging in Kenya.


● Fact as Fiction in Debo Kotun's Abiku
by Oluwole Coker.
[ view PDF ]
A discussion on fact as fiction in Debo Kotun's novel, Abiku wherein the locus of history and fiction is expounded as an expose on Nigerian political history to establish a hybrid of history and fiction.


● The Politics of Resistance and Liberation in Ngugi wa Thiong'o's Petals of Blood and Devil on the Cross
by Chijioke Uwasomba.
[ view PDF ]
This paper examines and discusses Ngugi wa Thiong'o's concern and perspectives on Africa's march towards selfhood and independence via his novels Petals of Blood and Devil on the Cross which dialectically represent an effort towards the liberation of Africa from the claws and shackles of imperialism as they deal with neo-colonialism in all its virulent manifestations.


● Axioms of Kemet: Instructions for Today from Ancient Egypt
by Itibari M. Zulu.
[ view PDF ]
An introductory pre-print electronic book on ancient Egyptian (Kemetic) literature highlighting the self-evident truths, social ethic, and moral questions detailing human culture and consciousness.


● Rhetoric: The Ancient Egyptian Origin of a Distinctly Human Trait
by Kofi Ababio.
[ view PDF ]
In this paper, the author explores the origins of rhetoric as an ethical prerogative in ancient Egypt, and argues that rhetoric is a wholly and distinctly human trait not traceable to a speculative animal evolutionary heritage.


● February One
by Paul T. Miller.
[ view PDF ]
A film review of February One, a documentary focused on four friends who initiated the Greensboro, NC sit-in movement which jumpstarted a wave of civil rights direct action protests across the South in the U.S.


● Building A Culture of Peace in Africa/Diaspora: Best Practices & Models
[ view PDF ]
April 2007 conference call: California State University, Sacramento


● Interrogations of Freedom: Memories, Meanings, Migrations
[ view PDF ]
October 2007 conference call: University of the West Indies, Cave Hill